modern | sophisticated | style | function
SOM Motorised Blinds
Would you like to be able to operate your motorised blinds & window furnishings using your phone even when you're not at home? Integrated window furnishings can also be operated using your home  automation system.  At SOM Blinds, Melbourne we specialise in motorised blinds & automated window furnishings. 
All our SOM system motorised & manual roller blinds are made here at our factory & showroom in Burwood, Melbourne.
You're welcome to visit our Burwood Blind Showroom by appointment.  We are also able to make a time to visit you at your place.  Coffee's pretty good at the showroom though & there's a large range of products & fabric samples to look at & see in action.  Give us a call before coming in so we can make sure we are here especially during COVID-19 restrictions.  We currently are limiting our showroom visits to ensure we can safely maintain social distancing  for you and our staff.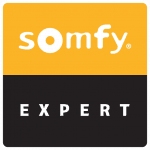 Why Motorised Blinds?
All of our motorised blinds or other products can be controlled using Somfy remote controls or by integrating with your home automation system.
What's not to like about being able to have your blinds, curtains & awnings under your control at the touch of a button whether you're at home or not. 
Your blinds will be manufactured & installed by us. No contract fitters. 
We have an extensive range of translucent, blockout & sunscreen fabrics to choose from.
Imagine going to bed at night with your blockout motorised blinds closed and be woken up with the morning sun filtering through your sunscreen blinds or sheer curtains.  This can all be programmed to occur automatically everyday. You can create moods, control your blinds from your couch, bed or even remotely from work or when away on holiday.  All of these features can be integrated with your home automation system. 
We choose to use Somfy motors in conjunction with our own SOM Blinds components which have been developed by us to deliver a sophisticated reliable motorised blind solution.
Our SOM Motorised Blind system can be retrofitted to your existing windows or speak to us in the design stage of your new build to ensure that we can provide the best system to suit your needs. We can liaise with your architect, designer, builder, automation specialist or electrician on the best ways to incorporate motorised blinds and window furnishings into your new home or renovation in Melbourne and surrounding suburbs.
Our unique SOM Blinds hardware will last for life & we are happy to guarantee that.  Some of our original clients are now updating their existing blinds with new fabric.  We are always trying to minimise waste & run our business as sustainably as we can.
Somfy give a 5 year warranty on their motors.  We have many Somfy motors we've installed still going strong after 18 years.
Our motorised or manual roller blinds can be fitted using a single or dual blind system. Our dual blind system allows for a blockout fabric on one blind and sun filtering sunscreen fabric on the other. We recommend this where daytime privacy is an issue or for large west facing windows to help protect your furnishings & flooring from the harsh afternoon sun in Summer. If you love light we suggest using sunscreen fabrics which offer you UV sun protection without blocking the light or views.
We are able to link blinds leaving minimal gaps between them & minimising the number of motors or chains required.
Motorised blinds especially here in Melbourne, integrated with automation by Somfy or your home automation system adds convenience & improves the energy efficiency of your home or office.
Motorising your window furnishings can increase their lifespan avoiding damage through excessive force or improper use. Removing the need for cords & chains removes safety risks to young children.
Motorised window furnishings are an excellent solution for large home or homes with difficult to reach windows. Motorising blinds can also provide independence for clients unable to manage manually opening their blinds or curtains.
Creating a pelmet to mount blinds in is often something clients wish they had thought about earlier. We are happy to discuss pelmet options with you & your builder. Pelmets sizes will vary depending on your window width & drop & the window furnishings you select.
Our experienced technicians can advise your electrician on the electrical wiring required to suit the window furnishings & control system you have chosen.

Benefits of motorising window furnishings
convenience |energy efficiency | increase product lifespan | safety | ease of use