Modernise your outdoors with designer markilux awnings
Entertaining family and friends at home has never been more popular, especially in the warmer months, so enhance your outdoor living area by installing a motorised folding arm awning. A retractable awning will help maximise your outdoor entertainment space and make it more usable throughout the year, while providing your guests with sun protection on hot summer days. Residential awnings make entertaining less stressful and more enjoyable, especially with Melbourne's unpredictable weather!
SOM Blinds has many years of experience in supplying and installing markilux folding arm awnings and retractable roof systems in Melbourne and surrounding suburbs. These high-quality designer awnings enable you to use your outdoor areas more effectively. As a specialist markilux dealer, SOM Blinds offers the entire range of folding arm awnings and roofing systems available from markilux Australia. There are a huge range of fabric options, including some striking colours, plus dynamic and fun stripe combinations.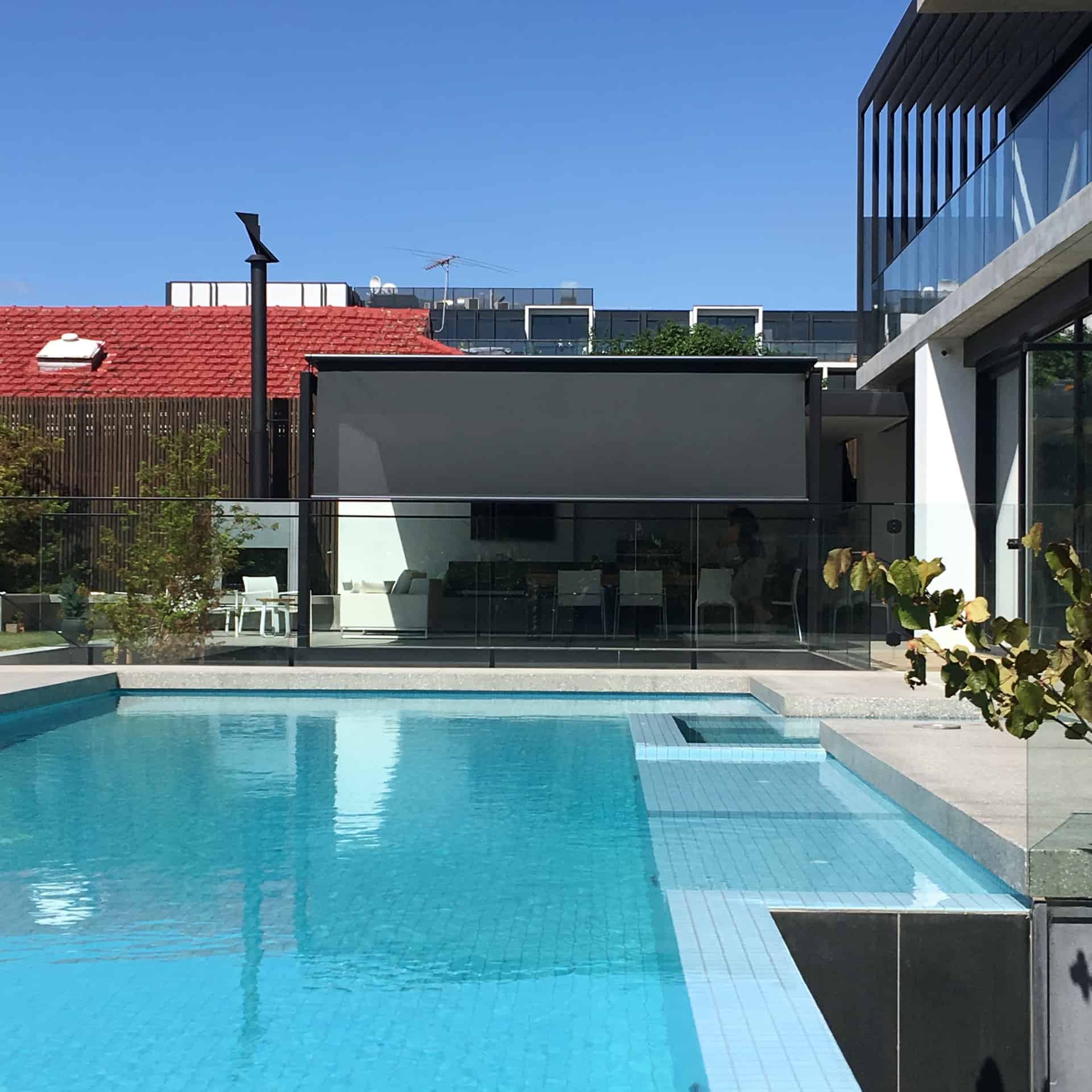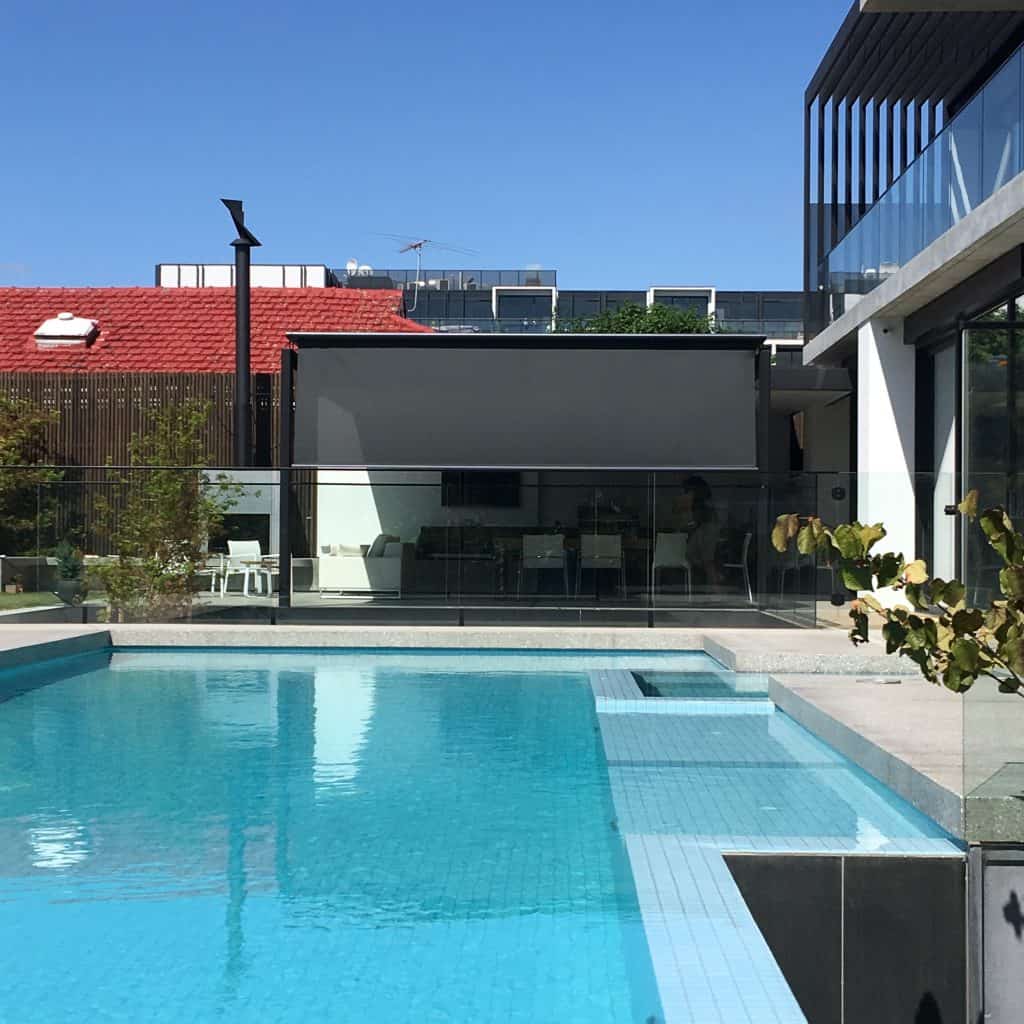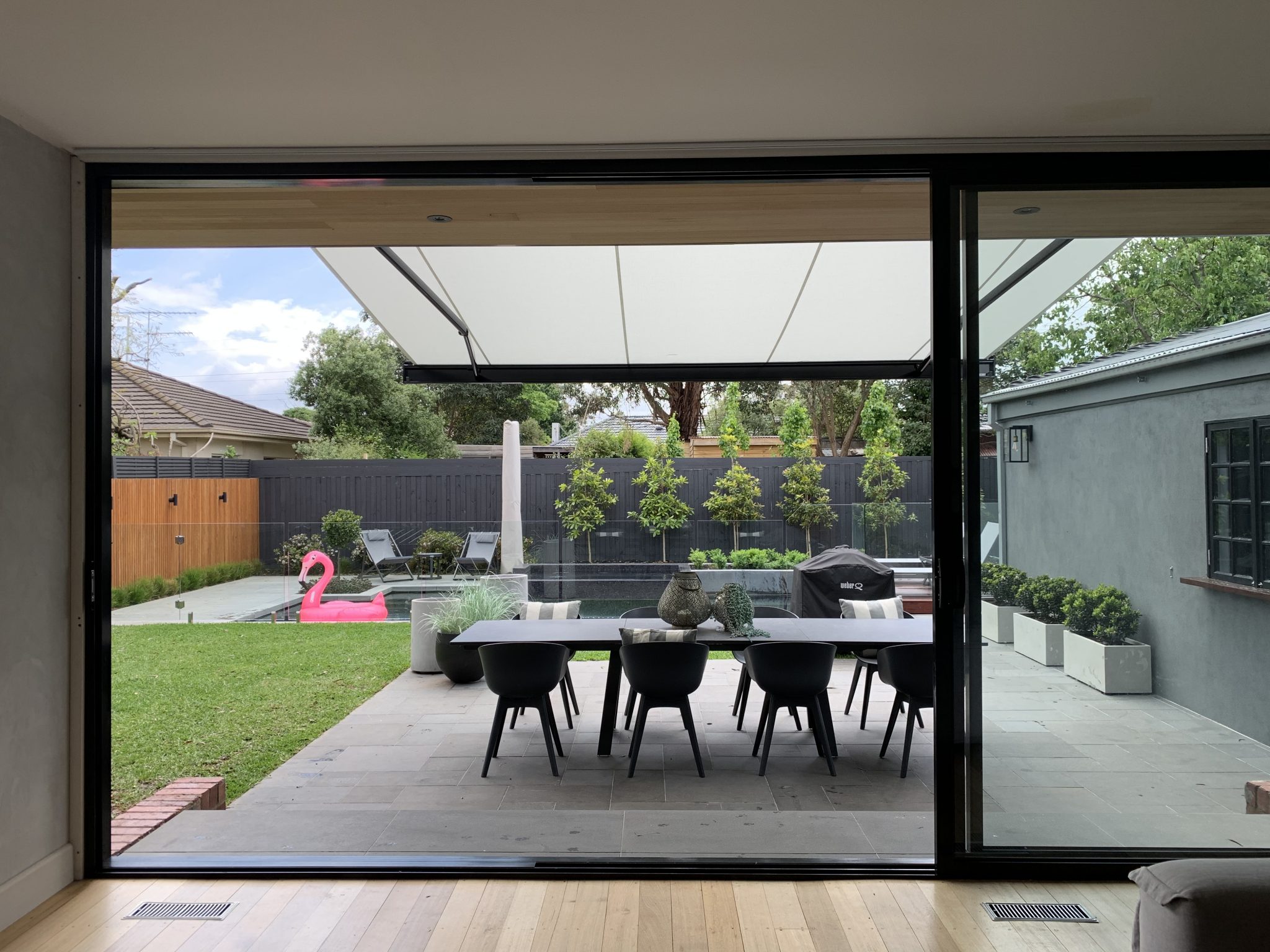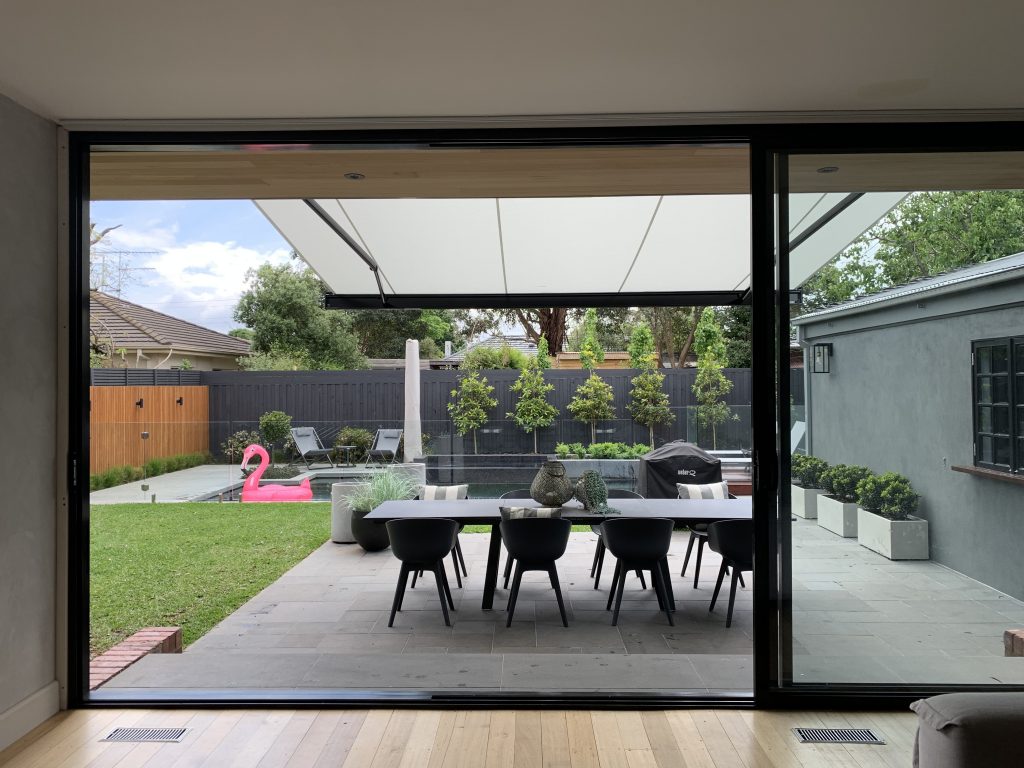 Merits of markilux shadeplus add-on
Shadeplus is an option available on some of the markilux awnings. Shadeplus increases protection from the late afternoon sun. This integrated drop-down sunscreen blind, which is built into your awning, will also reduce glare inside your home. It's especially good for rooms with large west-facing doors or windows. With shadeplus, you don't have to adjust your awning, you only adjust the shadeplus screen according to your preference.
We have a markilux awning with shadeplus on display at our showroom in Burwood, Melbourne. You're welcome to drop by to see the awning and shadeplus in action. We can also visit you at your premises to show you exactly what a markilux awning will look like at your home using an app developed by markilux.
Why we recommend folding arm awnings in Melbourne
Retractable roof systems such as folding arm awnings can essentially transform any outdoor area into a more comfortable, welcoming space with additional features such as protection against UV rays. See below some major benefits that homeowners & businesses can take advantage of with a folding arm awning.
Sometimes in the rush and excitement of getting the most advanced and stylish roof system installed, it's easy to forget about considering what the maintenance process involves. Thinking about the long-term implications of maintaining different types of shading solutions should play an important role in your decision-making. Simply put, folding arm awnings require minimal effort in their upkeep. These types of roof systems require an occasional clean to keep them in mint condition. Fabric skins can be spot cleaned with mild soap and warm water. The moving parts can be oiled once a year.
One of the main reasons they are easy to maintain can be attributed to their durability. The awnings are made from strong, long-lasting materials as well as high-quality fabrics. When living in Melbourne, especially along the coast, durability is a critical factor to bear in mind for outdoor shading. Unpredictable weather poses risks to your outdoor furniture, including awnings. While we always recommend that you retract your awnings in rainy and windy conditions and when not in use, tests conducted on awnings have shown that they can withstand considerable pressure. Sensors for wind and rain can be added to your awnings to prevent weather damage. When compared to fixed awnings, the lifespan of retractable awnings is far longer as they can fold away and remain protected from extreme weather conditions.
An outstanding feature of retractable awnings lies in their ability to seamlessly complement a wide range of outdoor uses. Be it for residential or commercial buildings, these awnings can be used to shade many outdoor areas including, but not limited to, the following: 
Entertainment areas

Poolsides

Car parks

Backyards

Gardens

Balconies

Patios

Alfresco cafes 

Courtyards
They are customised to meet the requirements of each property to effectively increase and boost the uses of your outdoor space. There are plenty of opportunities to do something new with a well-shaded open space and when not in use, simply retract the awning to enjoy the view.
Much like motorised blinds, you can heighten the convenience and benefit from your outdoor shading with motorised awnings. Eliminate the strenuous labour involved in manually opening and retracting awnings and operate them via remote control. For those who want an even higher sense of comfort and ease, control your awnings through voice commands on your smartphone. Timers can be added too. Sensors which can detect rain, wind and motion are optional extras that play an important role in ensuring your awnings are folded away and protected before the storm. SOM Blinds can supply other motorised window furnishing systems too, such as external blinds and external Venetian blinds.
It's common knowledge that extended exposure to direct sunlight can cause damage to our skin. Take your precautions one step further after applying sunscreen: opt for outdoor shading that provides reliable protection from UVA and UVB rays, as well as glare and heat. Awnings from OZTECH, one of our suppliers, have an SPF rating of over 50 as do markilux and Ricky Richards fabrics. You and your family or your patrons and employees can be protected from harmful sun exposure while enjoying the open, outdoor spaces to the fullest.
Aesthetically pleasing & neat
Retractable awnings are a flexible shading solution that operate so elegantly, especially when automated. They neatly fold inward against the building when not in use. There aren't any supporting poles or structures blocking your view, making the area feel spacious and airy. Choose your awnings from a wide range of colours to match your facade. Retractable roof systems instantly add versatility to any outdoor space.
How do folding arm awnings work?
The engineering behind it is straightforward yet ingenious. Retractable awnings are attached to the outside wall of your building. Being retractable implies that they can be opened and closed at will. A folding arm awning, which is one type of retractable awning, operates in a manner that is similar to how the human elbow works: it has spring-loaded arms that extend and contract. These arms are attached to a bar, which is the place where the awning is mounted onto the building's wall. It is important to note that the arms and shoulders of folding arm awnings need to be of very high quality, as they bear the majority of the load of the system, with weight coming from the fabric, front bars and gusts of wind. Not all walls are suitable for a folding arm awning and we would need to inspect your site before making any recommendations. Installing any type of awning is definitely not a DIY project.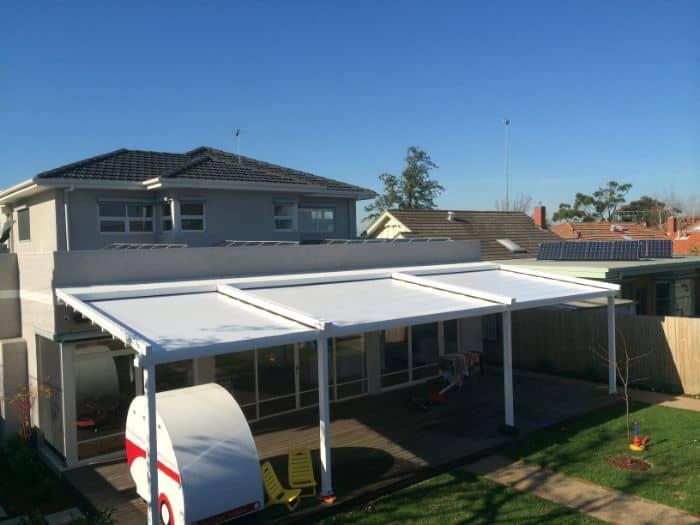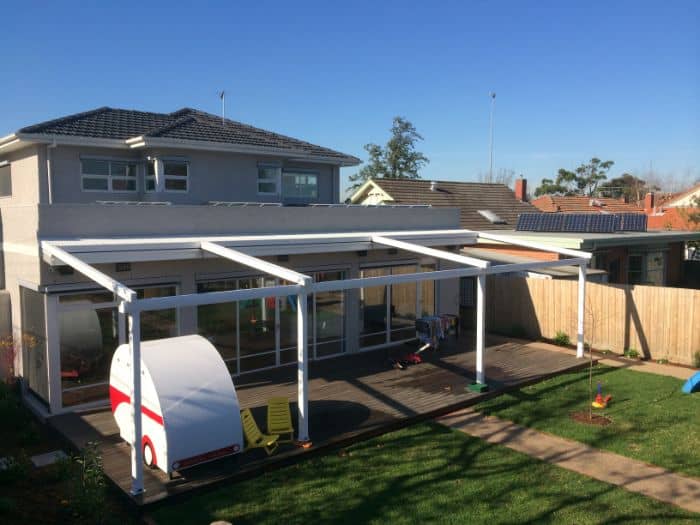 Can retractable awnings withstand wind and rain?
Awnings are primarily a shading device and are not intended to be used in heavy rain or wind. It is highly recommended to always retract your awnings during periods of strong winds. It's important to note that several factors come into play when considering this, such as the size and strength of the awning and the direction in which it's facing. Generally speaking, retractable awnings display an impressive strength and can withstand some wind, but it is best to fold away your awnings during extreme weather conditions. We always recommend adding wind and rain sensors to your awning to enable it to automatically retract in bad weather. We always recommend awnings stay retracted when not in use.
Choosing the right retractable awning with SOM Blinds
Retractable roof systems and folding arm awnings are an effective and efficient outdoor shading solution in Melbourne. Aside from markilux awnings, at SOM Blinds we have many other retractable awning options available. We also recommend and supply roof systems manufactured by internationally reknowned Renson and Australian company, OZTECH. OZTECH is one of Australia's biggest manufacturers and distributors of quality retractable awnings and roofing systems. They have an extensive range of products that are custom-made to suit various requirements. In addition to that, all their awnings also have an SPF 50+ rating, blocking 99% of UV rays and many harmful elements in the air.
We take pride in ensuring that when we choose suppliers, they are of the finest calibre. Our clients can rest assured knowing that their outdoor shading products have been made according to the highest standard. When it's time for you to choose the correct type of retractable awning, it's an easy process with SOM Blinds by your side.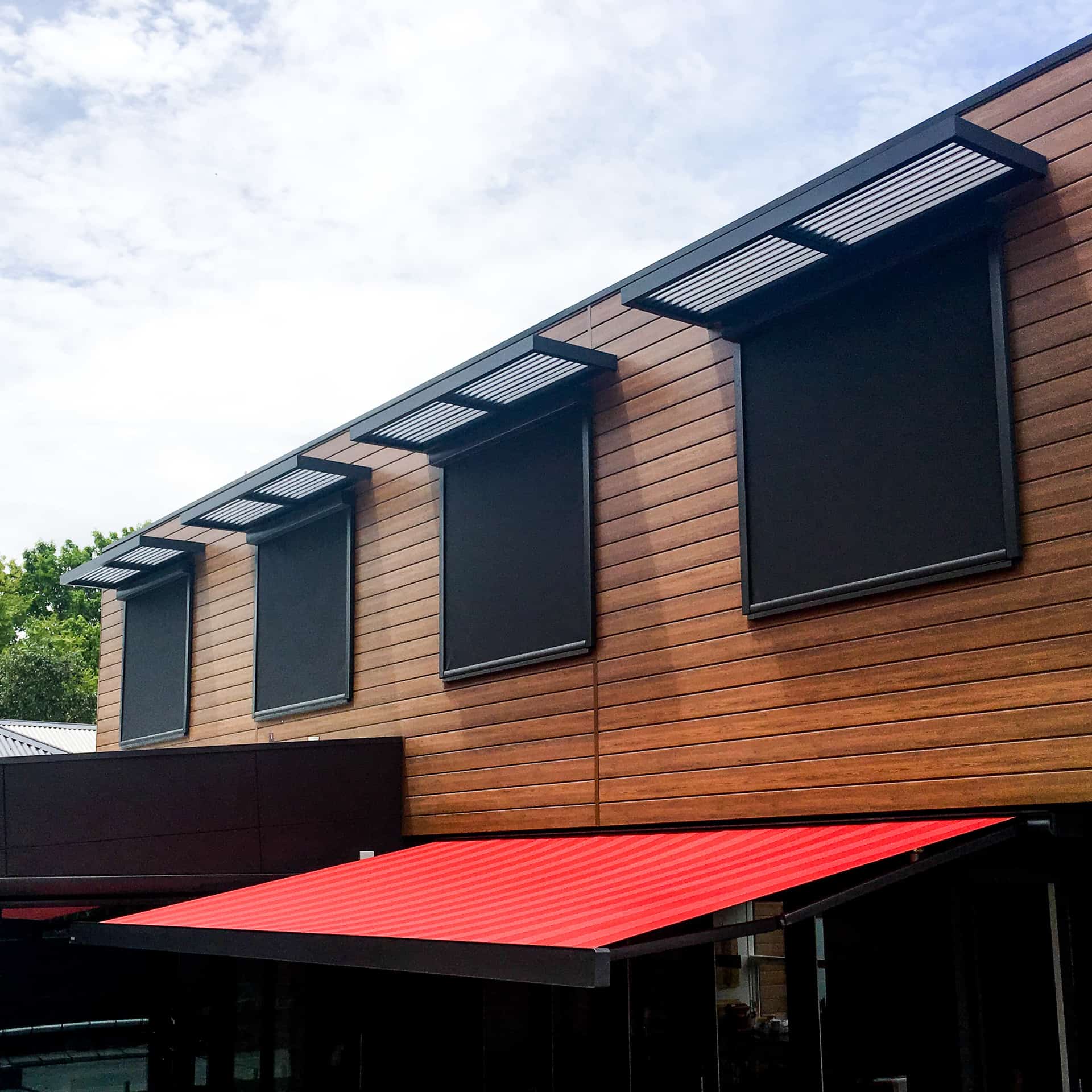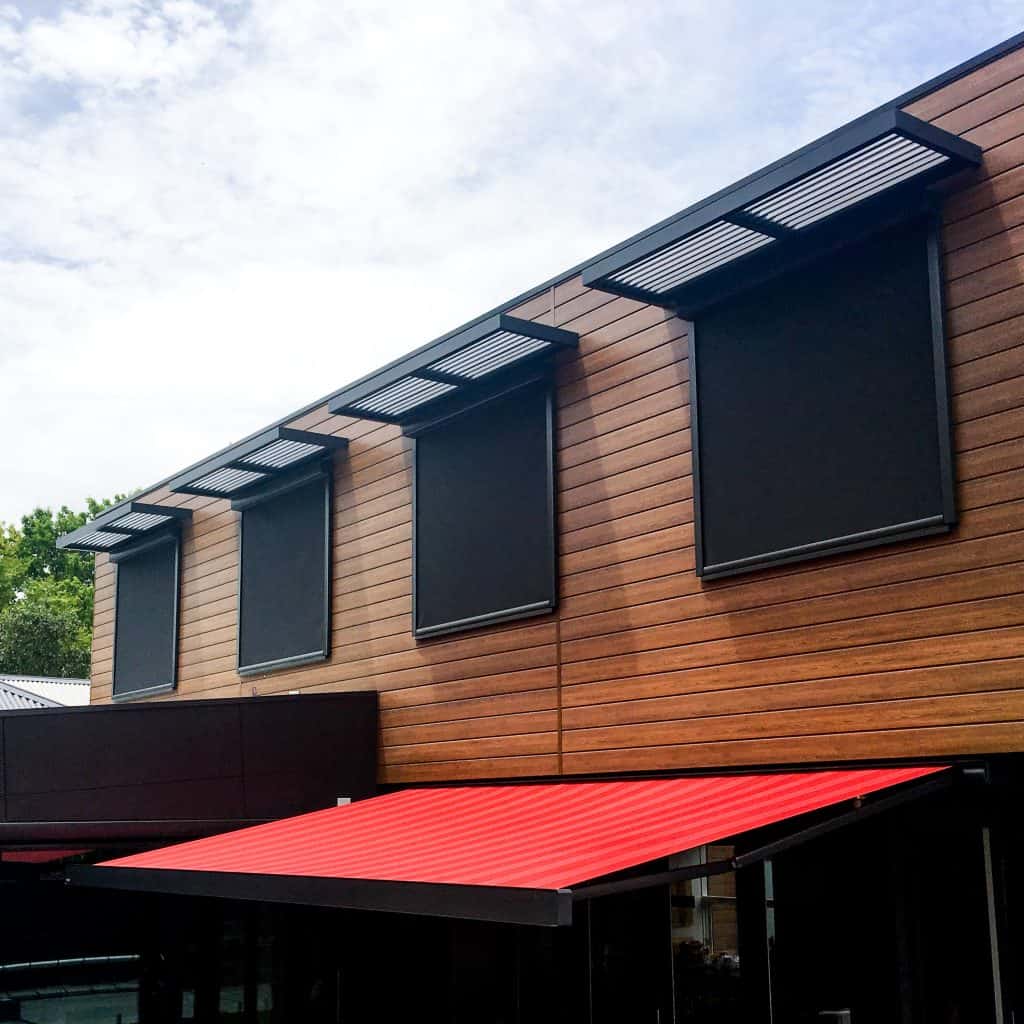 BROWSE OUR RECENT PROJECTS
convenience | energy efficiency | increase product lifespan | safety | ease of use
High-quality folding arm awnings in Melbourne
Enhancing your outdoor living areas with a designer folding-arm awning or retractable roof system will make your entertaining areas more versatile, increasing the amount of quality leisure time you spend at home with your family and friends. Visit our Burwood showroom or request an onsite consultation. View the retractable awnings we supply, and explore customisation options to upgrade and enhance your outdoor spaces. Speak to our design team, book a visit to our showroom or request a complimentary quote today. We service Melbourne's inner suburbs and the Mornington Peninsula with a long list of clients based in the areas surrounding Brighton, Caulfield, Glen Iris, Malvern, Camberwell, Kew, Glen Waverley and Mornington to Portsea.