Transform your property with outdoor Venetian Blinds
Do you want an effective light and heat control solution for your Melbourne home or office? Motorised external Venetian blinds are a modern and contemporary way to regulate the temperature in your home or commercial space. With over 21 years of industry experience, SOM Blinds has the technical knowledge and mechanical expertise to supply you with the highest quality exterior Venetian blinds in Melbourne, along with highly-skilled tradesmen who specialise in automation.
Our extensive understanding of the outdoor blind market means we can help you find the best custom-made outdoor Venetian blinds to match your home and lifestyle needs. Our trusted and attractive blinds are perfectly suited for any building where visual appeal, functionality and temperature control are all equally important. Let's delve deeper and explore the many advantages of choosing Venetian blinds for outdoor use.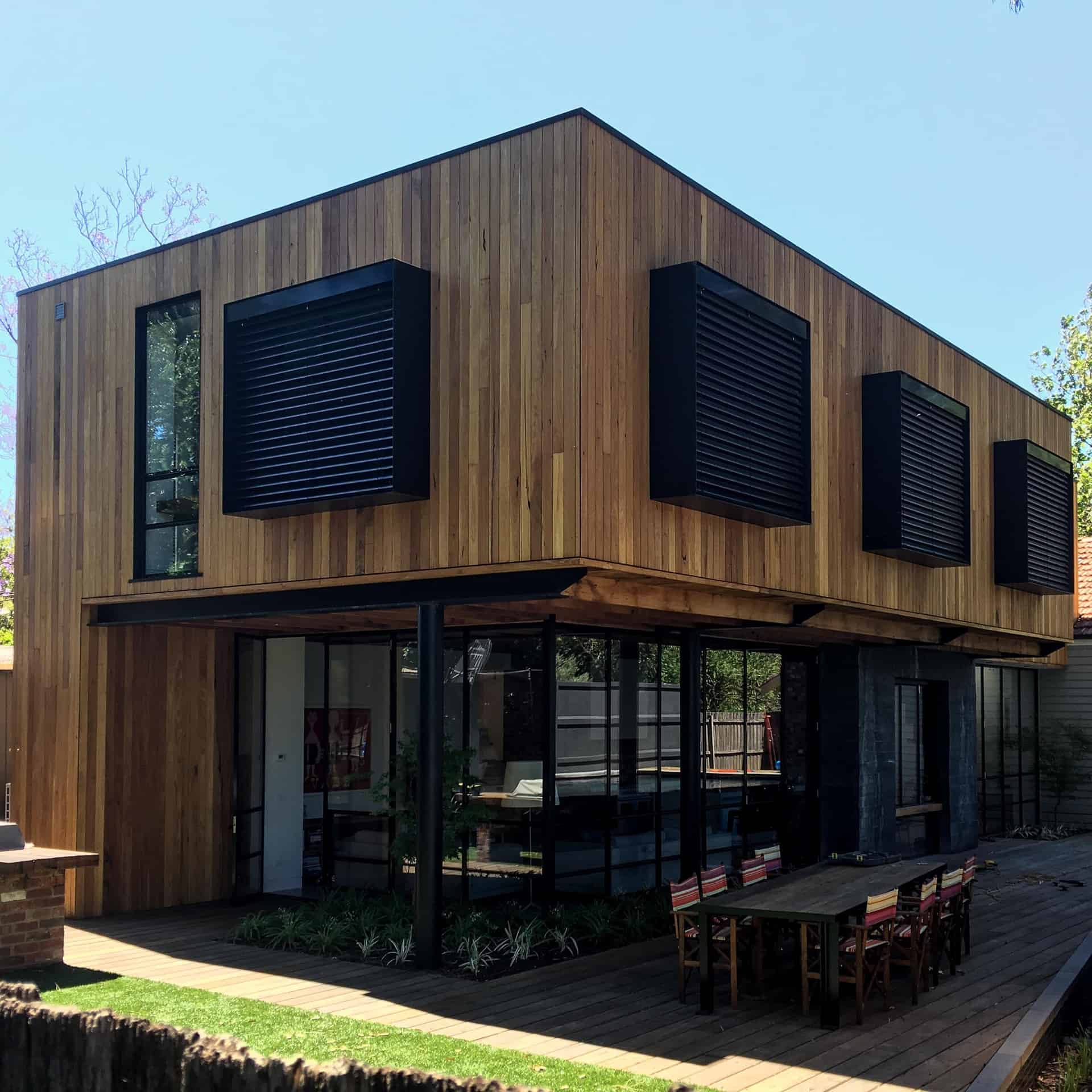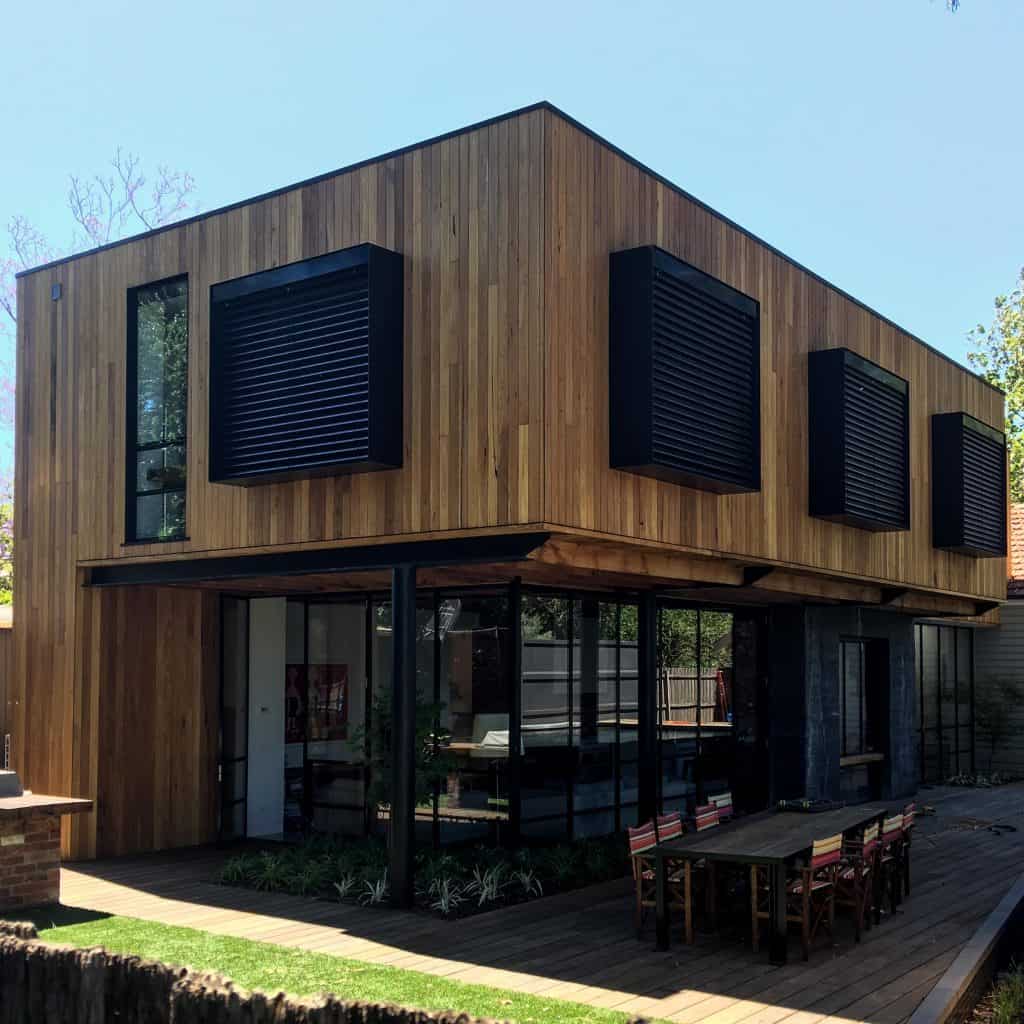 Why choose external Venetian blinds
All of our motorised blinds, internal and external, can be controlled using Somfy remote controls. They can also be programmed to work even when you're away. If you're planning on having a home automation system installed, we can integrate all of your motorised window furnishings to operate automatically or manage them remotely. Automation of your external blinds gives you added control over heat gain into your home, increased protection of your floors and furniture and added security whether you're at home, at work or away on holiday.
Our blinds are made to last. On average, they have a minimum 8-year to 10-year lifespan. We only offer our clients products manufactured with premium quality hardware. With the quality products used in the manufacturing process, many of our blinds last well above 15 years.
Outdoor Venetian blinds can significantly reduce glare on screens and monitors. This is great news for those who work predominantly on a computer or electronic device, making this type of blind well-suited for office buildings and work-from-home spaces.
Made-to-order external Venetian blinds match your building's dimensions right to the last millimetre to ensure a uniform look on your facade.
A creative's dream! To complement the style of your building and your specific needs, there is a wide variety of styles of external Venetians to choose from. All of our blinds are made from high-quality materials and specific solutions can be offered depending on whether your priority is privacy, security or energy efficiency. SOM Blinds is not a one-brand-fits-all type of business, we are here to help you find the perfect window furnishings for your project. Design advice and options are available through SOM Blinds for all of your external blinds, including aluminium external Venetian blinds.
Light and climate control
Managing how much sunlight enters your home or office helps maintain a comfortable indoor climate for everybody. This feature makes it possible to introduce energy-saving practices. There are different shapes of blades available, some with better light-block than others. This might be something to consider if your external Venetians are being used on bedroom windows. How your external venetians are installed can also impact just how much light will be blocked. This is where our experience comes into play and we are very happy to discuss installation options with you and your design team to ensure that you get the best results.
Aesthetically pleasing design
There is no doubt that the contemporary look of external Venetian blinds suits the modern designs which are currently very popular in Melbourne, especially Melbourne's bayside suburbs. They're available in a wide range of colours to suit the aesthetic of many buildings. By giving consideration to your window furnishings during the design stage of your new home, you can ensure that all the behind-the-scenes details are in place to make the install and operation of your blinds seamless.
Your home is where you should feel the most comfortable. Enjoy a sense of ease and freedom of movement indoors with an increased level of privacy that external Venetian blinds provide.
SOM Blinds provides an excellent after-sales service for all of our products and we are happy to assist with product replacements and repairs, if ever required. Our external Venetians come with a 5-year warranty.
Benefits of automating your external Venetian blinds
External Venetian blinds that are motorised or automated are in high demand because they provide much more than convenience at your fingertips. The automation functionality transforms the entire experience of having external blinds. Much like your internal window furnishings, your external blinds can be controlled using Somfy remote controls or your home automation system. It's very easy to adjust the position of your motorised Venetian blades. Automation gives you the control you need to reduce glare, maintain your view or increase your privacy.
External blinds make it easy to minimise heat gain and therefore improve the energy efficiency of your home or office. As a result, energy costs can be significantly reduced. With wind and sun sensors, we can program your blinds to operate automatically even when you're away from home. There is also an element of heightened security to this feature as it may appear that your home or office is occupied. Our external Venetian blades are fully retractable, which is important for those sunny winter days when you want the warmth of the sun to flood into your home. The second benefit of the blades being able to fully open is that you can easily clean and maintain your windows too.
Manual outdoor blinds do require a level of physical strength to open and close, making automated blinds a necessity for those who have difficulty reaching or are unable to perform this task. There is no hard labour involved if your outdoor Venetian blinds are motorised and when they are programmed with your home automation system, they can operate independently or on a timer. If you have an outdoor entertainment area with a retractable roof system, such as a folding arm awning, that too can be automated to operate at the touch of a button or timer for ultimate ease and peace of mind.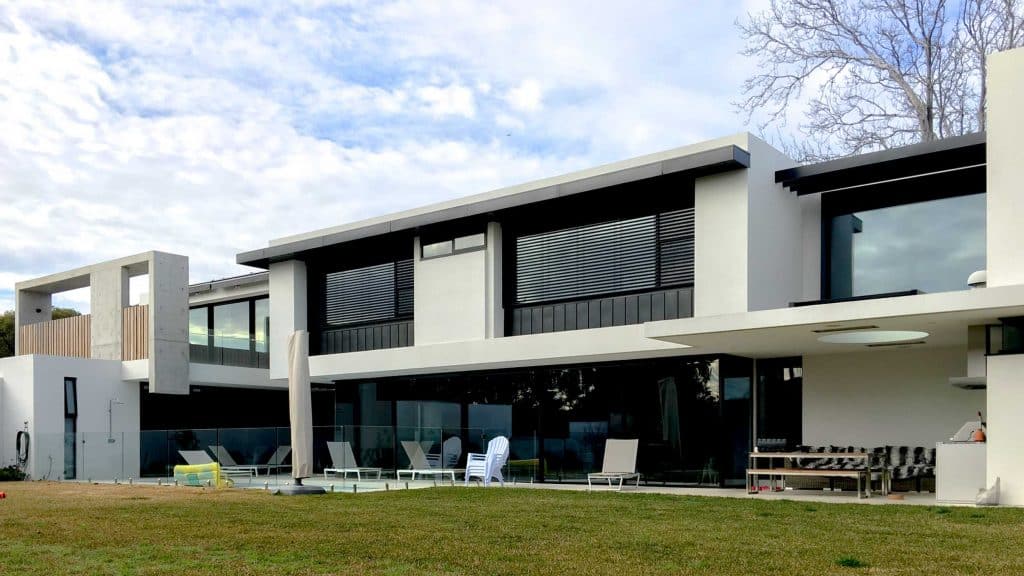 Do external Venetian Blinds reduce heat?
One of the most common questions we get asked is whether outdoor Venetian blinds can reduce heat gain into your home. In our experience, outdoor blinds do reduce heat and they keep solar radiation at bay. When sunlight reaches the outdoor or exterior blinds, the blades from the Venetian blinds reflect the sunlight before it reaches indoors – this means that the rays do not reach the interior at all. The secondary benefit from this heat reduction is the energy-saving factor: there is a decreased need for the prolonged use of air conditioning in homes and offices. In some cases, room temperatures are reduced by up to 10°C, making the room temperature cool and comfortable for everyone with zero wasted energy.
Top-fixed or face-fixed external Venetian blinds
Venetian blinds for outdoor use can be mounted in different ways. Each type has its features and benefits that can meet different requirements – it all depends on your needs and what type of aesthetic you are hoping to achieve with your design. The key differences and advantages between a top-fixed and a face-fixed outdoor Venetian blind are summarised below:
As the name suggests, the installation is at the top of the blind. This means that the blinds can be installed inside a specially constructed pelmet which will need to be coordinated with your design team and builder. This forms a single-blind unit that can be perfectly concealed within or behind the facade, accomplishing that neat and balanced finish.
This blind is mounted on the front of the window on your facade. The major advantage lies in the prevention of thermal bridges (higher heat transfer). While all our outdoor Venetian blinds reduce heat, the face-fixed blind offers the most heat reduction.
If you are unsure of which type of blind is ideal for your premises, we can assist you. With years of experience under our belt, we can work closely with you or your design team to meet your requirements.
What to expect from the installation process
As with any type of renovation or new building construction, effective planning is vital for success. The same process applies when it comes to installing external Venetian blinds. Whether you are building or renovating, the installation process will be planned in close consultation with your architect, designer and builder contracted to complete the project. Site access is an important factor to be considered especially if installations are required on upper floors. In many cases, there's a need for scaffolding, which can often be coordinated with other trades during your construction or renovation. With planning and organisation, the installation of your external blinds can be coordinated to run smoothly, without causing an inconvenience or delay.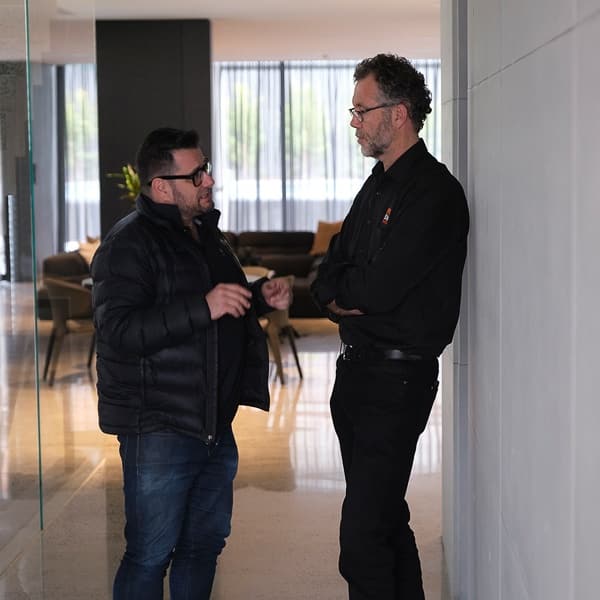 Design solutions from SOM Blinds
With careful planning, your Venetians can be installed in a way that integrates with your home's facade. This will allow you to create a modern, streamlined finish. You can expect the same quality of service from us when we tend to your indoor blinds too, such as plantation shutters and curtains and Roman blinds. We consult closely with the professionals involved in your project, such as your architect or building designer to discuss the most effective ways to include your chosen window furnishings into your design, whether for internal or external use.
BROWSE OUR RECENT PROJECTS
convenience | energy efficiency | increase product lifespan | safety | ease of use
Outdoor Venetian blinds in Melbourne: the superior choice
Schedule a visit to our Burwood showroom where you can view and choose from a selection of external Venetian blinds with a stunning combination of quality, flair and functionality. Take advantage of the technical expertise and installation knowledge of our experienced SOM Blinds team. Our exceptional service includes coordinating the entire process of selecting and installing your external Venetians blinds while working in conjunction with your builder or engineer to ensure the best results. Visit our showroom to see how effortlessly our external venetian blinds operate, and talk to us about your options.
Choosing to work with us also gives you access to our in-house interior design consultants to help you plan your internal window treatments. We work with builders, architects, interior designers and Melbourne homeowners—we are happy to work with your home renovation team directly to ensure you get the best results.
At SOM Blinds, we use premium-quality hardware and source the very best products and fabrics available. Get in touch with our team to discuss your external Venetian blinds and other window furnishing requirements and request a complimentary design consultation. We provide our personalised service to Melbourne customers based in Port Melbourne down to Sandringham and further east, including Brighton, Caulfield, Glen Iris, Malvern, Camberwell, Glen Waverley, Kew and Northcote.