Enrich your interiors with quality Roman blinds and curtains
Bring your interior spaces to life with bespoke curtains and Roman blinds. Visit the SOM Blinds showroom to see our impressive range of fabrics and colours. Our design consultants will help you select the best custom window treatments to suit your decor and lifestyle. The blinds and curtains we offer our clients are all made-to-measure using only high-quality fabrics and accessories. Forget about manually operating heavy curtains or managing cords with roman blinds—our window furnishings can all be motorised or fully automated for extra convenience.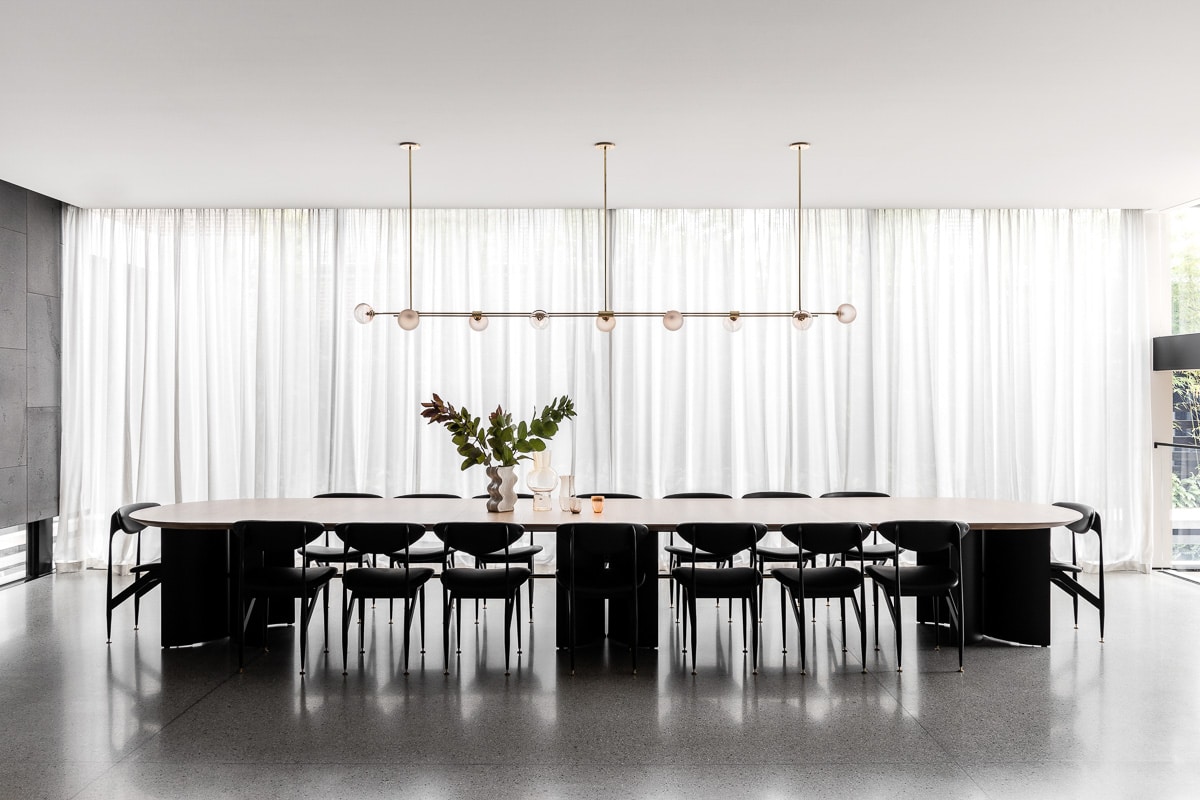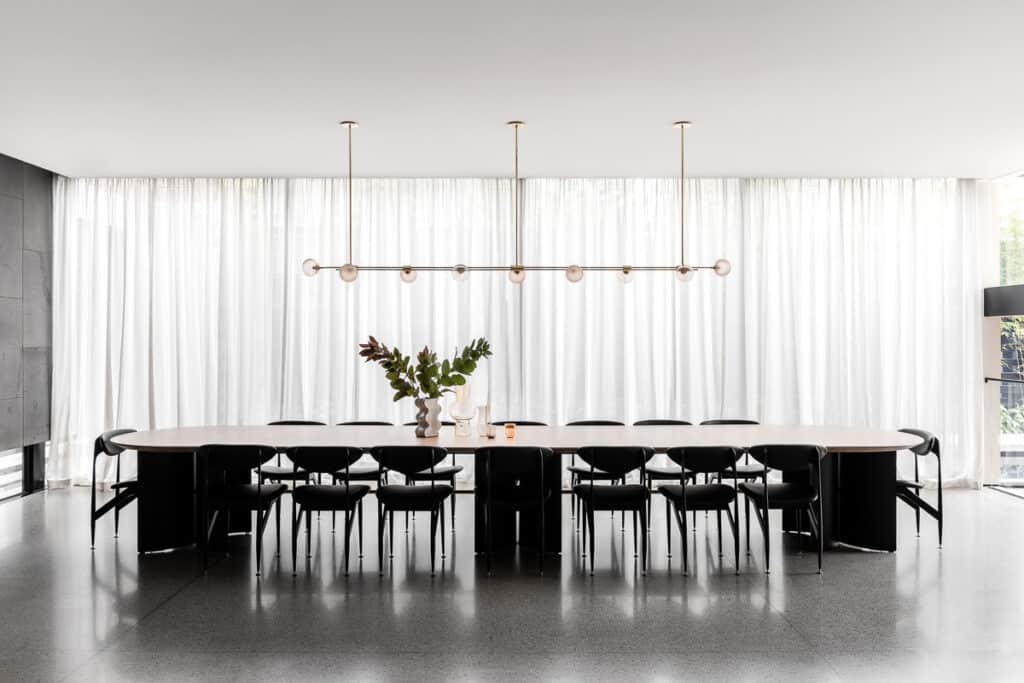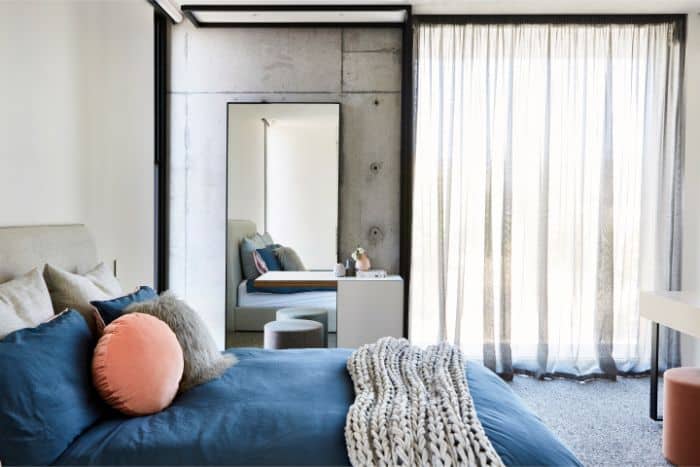 Sheer curtains are light and breezy window treatments. They make great use of natural light for your room with the translucent nature of its fabric. Sheer curtains are available in different colours, patterns, prints and textures. Sheers are more about style and ambience than privacy, which is exactly why sheer curtains are often paired with a block-out blind or lined curtain. They are generally easy to clean – dust can be shaken out of them or, depending on the fabric, they can be washed with mild detergent. Sheer curtains are extremely versatile, making them a favourable choice of window furnishing.
It should go without saying how versatile a choice like curtains are for home and office interiors. They come in a diverse selection of colours, fabrics, prints, patterns and designs. You can easily achieve a one-of-a-kind look for each room, if you wish. Choose layered curtains for added depth or keep it elegant and simple with a single layer. Since curtains are fully customisable in shape and size, they can be used to cover most window sizes.
Curtains can enhance the appearance of your rooms. Through varying lengths and widths of curtains, you can attain different types of looks and styles. For example, rooms with vaulted ceilings work well with curtains, creating an outstanding feature in the room. Mounting your curtains behind pelmets can hide hanging hardware such as curtain rods or tracks. This can give your room a clean, streamlined finish. We also have a wide range of decorative curtain tracks to choose from
Inject a zest for life into your living spaces with solid, sharp or brightly coloured curtains. These choices vary according to the type of look you're aiming for. When it comes to bright colours, it's important to be mindful of colours that complement each other and those that don't. SOM Blinds has an in-house interior design consultant who can help you choose the right blend, even for your rooms that have neutral colour schemes.
Advantages of Roman blinds
Roman blinds can transform your entire room's interior with their classic and timeless look. Roman blinds can be manufactured from a variety of fabrics and styles, making them an appealing choice. If you want to achieve a minimalist interior design, Roman blinds are the perfect alternative to traditional curtains. While curtains can sometimes be heavy and overwhelming, Roman blinds are light and neat. They can be installed over your window or architraves – the choice is yours.
Shading your windows can help you create the ideal atmosphere in your home. Roman blinds can help control how much light enters your room, especially when the fabric is lined. Lining is optional and can serve a variety of purposes. A block-out liner can keep your home cooler and more shaded as opposed to standard liners that generally allow much more light to enter your home. Roman blinds do an excellent job at maintaining your privacy, while maintaining class and sophistication inside.
Choosing motorised Roman blinds over manual ones makes your Romans so much easier and quicker to open each day. Motorised Romans are also a much safer option for children and pets. Manual Roman blinds have cords and rings which can be a choking and strangling hazard. When your blinds are motorised, there is no need for these accessories. All our motorised blinds can be controlled using a remote control or a mobile device via your home automation system, making it the safest and easiest option for the whole family.
Roman blinds can make your interiors appear more spacious. Curtains can be bulky and space is needed for them to stack alongside your window when opened. If space is limited then Roman blinds are a great alternative. Roman blinds fold neatly and do not take up any extra space, leaving your window frame and its immediate surroundings in full view.
Manual Roman blinds are simple to operate but motorised blinds are the ultimate effortless solution. The benefits of motorisation go beyond controlling your blinds through a remote control; you can control them even in your absence. Automated blinds become more than a convenience for those who have difficulty in physically operating blinds, or for those whose blinds are installed on difficult-to-reach windows
When the hot Australian summer arrives, you can keep the sunlight at bay with Roman blinds. Help keep your rooms feeling cool and comfortable, reducing your need for air conditioning. When those cold winter days come along, your Roman blinds can also help keep your interiors warm, minimising heat escape. Just how effective the energy-saving properties of your Roman blinds will be lies in your choice of fabric. At SOM Blinds, our interior designer can consult with you on which fabric will work best for your space.
Why choose SOM Blinds for your curtains and Roman blinds
If you are thinking about integrating the control of your curtains and Roman blinds with your home automation system, we highly recommend it. We can assist in integrating and automating your window furnishings to work with your home automation setup. Our technicians have worked with most home automation systems including CBUS, Control4, KNX, Fibaro and Dynalite.
When it comes to fabrics, the options are endless! We work closely with industry leaders and designer brands to bring our clients the most diverse and up to date ranges available. From the latest designs to premium quality fabrics and materials, you name it and we'll source it. We don't limit your choice to a few brands or colours. We are here to help you find the perfect fabric and colour for your home.
We manufacture all of our internal motorised roller blinds using components developed and made in Melbourne. We've developed a high-quality motorised blind system that is guaranteed to last a lifetime. Because we manufacture all of our own roller blinds, whether manual or motorised, we're able to easily replace the fabric on our roller blinds, especially if a change of colour is desired down the track. Another advantage of making our own blinds is the ample flexibility and control over turnaround times.
Recessed pelmets are a great option if energy efficiency is one of your aims. When creating these pelmets, they need to be sized and constructed correctly for them to be effective. We can advise you and your design team how to achieve the most effective pelmets for your windows.
We are passionate about Roman blinds and curtains. Our expert team is always available for consultation. Our in-house designers can advise your electrician and builder on the correct wiring requirements for your motorised window furnishings, while our interior design consultant can advise you on the latest trends. We make every effort to help bring you a customised Roman blinds or curtain solution.
BROWSE OUR RECENT PROJECTS
convenience | energy efficiency | increase product lifespan | safety | ease of use
Find the perfect Roman blinds and curtains in Melbourne
With over 21 years of industry experience, you're in good hands with the team at SOM Blinds. We supply and install both manual and motorised curtains, Roman blinds, plantation shutters and a wide range of other window furnishings. We also work closely with builders, architects and interior designers to ensure your window furnishings match your decor and lifestyle perfectly. 
Call us to book an appointment so you can browse our showroom in Burwood and speak to one of our design consultants. We will then put together a design proposal and quote for your project. 
Alternatively, contact our team to discuss what you have in mind, or we can visit you in your home or office. We service homes and commercial spaces located in the Melbourne area from Port Melbourne to Sandringham, including Brighton, Caulfield, Glen Iris, Malvern, Camberwell, Kew and Glen Waverley.