Blinds & Window Furnishings In Melbourne
Premier Blinds for Distinguished Residential and Commercial Spaces
At SOM Blinds, we specialise in bespoke window furnishings for residential properties in Melbourne and its surrounding suburbs, from Port Melbourne to Sandringham, including Brighton, Caulfield, Glen Iris, Malvern, Camberwell, Kew and Glen Waverley. We have a great showroom for you to come in and review your project with us. Here you can discover a wide selection of window furnishings including electric blinds, curtains, shutters and retractable roof awnings that can be motorised and, in most cases, integrated with your home automation system.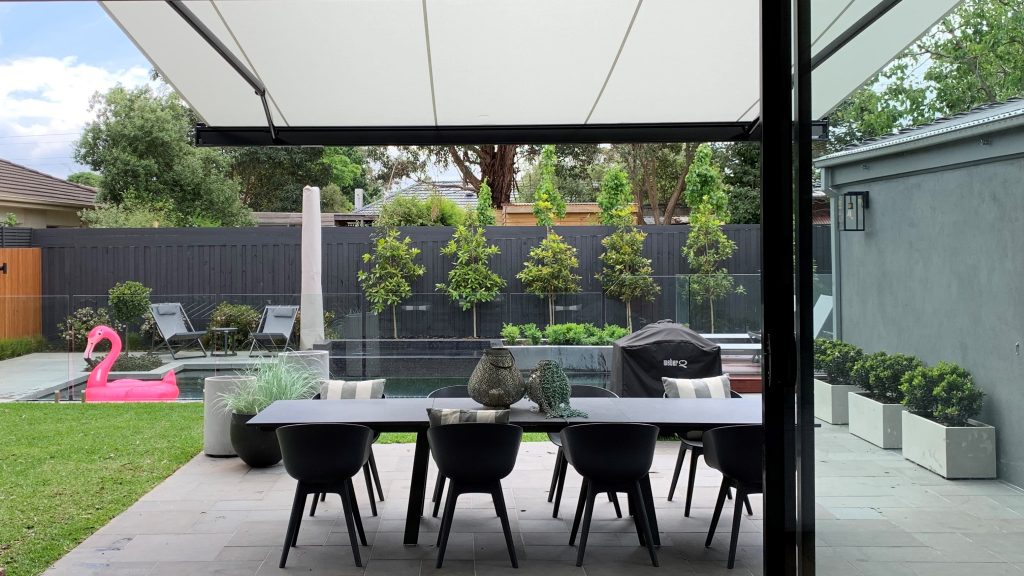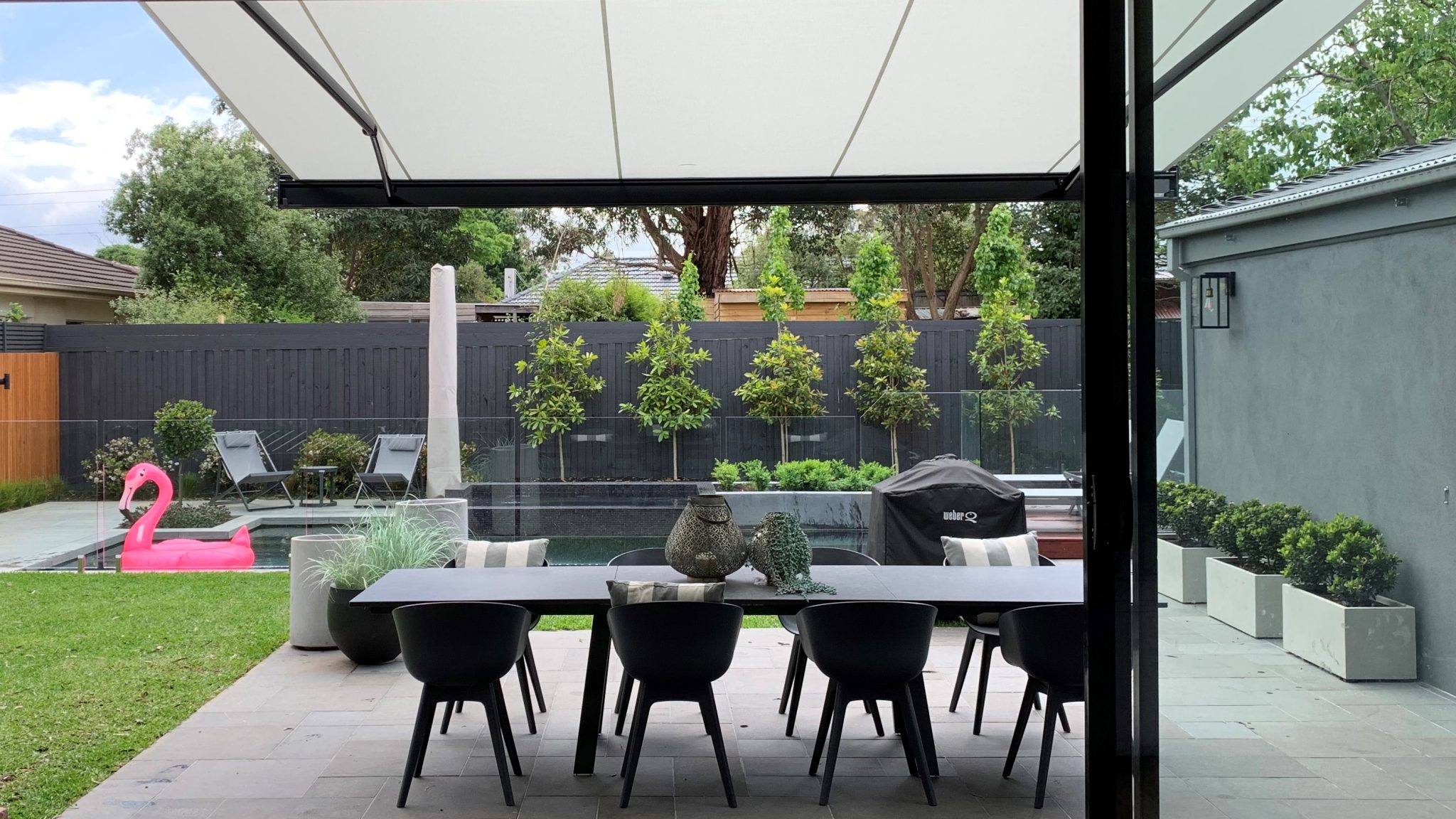 design  |  advice  |  coordination  |  manufacture  |  install 
Window furnishings at SOM Blinds
Electric (motorised) and manual blinds can improve the energy efficiency of your home or office. They are available in block-out, sunscreen and translucent fabrics. There's a 5-year warranty on the motors and fabrics, along with a lifetime warranty on SOM Blinds motorised componentry.
Choose from a vast selection of fabrics and colours to complement your decor. Roman blinds and curtains are custom-made for that perfect fit and finish. They are easy to operate, safe and protect your interiors from fading. Roman blinds can also work well in tight spaces.
All our timber and aluminium shutters are custom-made to fit different window shapes and sizes. They can be made in a variety of colours and are easy to clean. They can even be motorised for windows that are hard to reach in your home.
Motorised external Venetians are a modern light and heat control window treatment. Due to their fantastic ability to minimise heat gain, they can help make your home or office more energy efficient. They are easy to operate, durable and resistant to weathering.
Automated external blinds that use sunscreen or blockout fabrics promote energy efficiency and improve the comfort of your indoor spaces. External blinds can help to protect your flooring and furnishings against sun damage. They are simple to operate and can be programmed to open and close independently or when needed, via sun and wind sensors to trigger their operation. Motorisation is also a great solution for windows that are too high to reach manually.
Retractable roof blinds such as folding arm awnings can help to maximise the use of your outdoor living spaces. We supply beautifully-designed markilux and markilux shadeplus products, along with OZTECH's trusted retractable roof systems. All are durable and serve multiple purposes. We have a huge range of outdoor awning solutions so we can help you find the best solution to make the most of your outdoor space.
What sets SOM Blinds apart from the rest?
Having a confident, experienced and reliable team who understands what they're doing is what sets us apart.
We work together with you and your design and construction team to ensure your window furnishings don't only look amazing but are functional and easy to use.
We consider all of your needs, such as light and heat control, privacy, accessibility and glare reduction. We understand how window treatments can work to increase the energy efficiency of your home.
Our team includes technicians as well as interior design specialists, who are available to assist you with all of your fabric and colour selections.
There are so many options available when it comes to window furnishings that having an experienced team to help you navigate this, in conjunction with your construction team, is an invaluable resource.
Having over 20 years of experience, we have worked out who the best suppliers are and we have access to fantastic electricians who can consult with you to achieve the desired outcome for your property.
We have an excellent working relationship with many of Melbourne's most prestigious builders; builders who have confidence in us being able to deliver, time and again, for their clients.
We proudly manufacture all of our indoor roller blinds at our factory in Burwood. Our motorised blinds are made using components that we developed and get made locally, in Melbourne.
Bernie Sombekke, the owner of SOM Blinds, developed his first motorised blind system back in 2002 with the help of local engineers and electrician friends, which is why he is happy for us to guarantee that they will last a lifetime!
We are able to easily update fabrics or replace motors on our SOM Blinds system, 
All of our blind installations are done by our in-house installation team, so you only deal with us from start to finish. Repairs and maintenance are happily provided by us for our clients, even years after installation (we can't tell you how many calls we get from frustrated homeowners unable to get after-sales service from their original supplier).
We work with your electricians and automation specialists to ensure that all of our installed products function exactly as they should. Home automation is a minefield for the inexperienced!
Our blind hardware is specially designed to last you a lifetime, guaranteed! When it's time for a change, our clients can simply update their existing roller blinds with new fabric, because their SOM Blinds hardware still works perfectly.
We are committed to using new and improved methods to minimise waste, running our business as sustainably as possible. Somfy, one of our partners in automation, offers a 5-year warranty on their motors, yet we have many Somfy motors out there that have lasted more than 15 years.
Why blinds are an effective window furnishing system
Much can be said about the benefits of motorising your blinds. The first major advantage is the convenience aspect: through the touch of a button, or in some cases a voice command, you can control the opening and closing of your blinds without having to move an inch. This functionality becomes a necessity for some people who may have difficulty manoeuvring window furnishing systems, such as those with a physical disability and the elderly. Integrating your blinds with your home automation system is the ultimate level of convenience you can enjoy – it also helps you to control and operate your blinds in your absence for that added peace of mind.
One of the main functions of window furnishings is to provide privacy. Different products offer varying ways of achieving privacy. Some products are able to provide privacy and maintain your view – your priorities will impact the solutions we offer you. By automating your window furnishings   you gain the ability to control them in your absence, such as when you are away on holiday, you can create the impression that your home is occupied, providing the additional benefit of security.
Whether your blinds are manually operated or motorised, they are simple to adjust to control the amount of light that enters your home. Lighting plays a huge impact on the mood and decor of your home, as well as temperature control. Blind fabric can be block-out, sunscreen or translucent, allowing you to choose the level of light control and access to views your blinds will provide. You also have the option of a dual blind system on your window using two blinds, one being a block-out, the other a sunscreen or translucent blind which can provide daytime privacy and view while still allowing light into your space. Plantation shutters or external Venetians give you the ability to adjust their blades, allowing you to control the exact amount of privacy or light control you need.
Another benefit is energy efficiency. By being able to control how much sunlight enters your home or office, you can help control the temperature indoors. This method of temperature control and insulation means that you can reduce the need for your air conditioning or heaters to run for long periods. You can reduce the need for your lamps too, with just the right amount of light to illuminate your indoor spaces for clear visibility. The savings from the reduced energy consumption is an advantage that many homes and offices in Melbourne are opting for in the long-term.
Customised internal and external blinds add an air of sophistication and elegance to your property. Selecting the right window furnishings to complement your home will definitely improve the livability and value of your home. Whether your choices are focused on energy efficiency using external blinds or interior design using decorative blinds, curtains, sheers, Romans or plantation shutters, we can help you make decisions that you will enjoy using in your home for years to come. An investment in custom window treatments will always make your property stand out from the rest.
Are you feeling confused or overwhelmed?
Our in-house interior design consultants & technicians are here to help you make great choices.
Do you want expert advice to help you find products that will suit your family, your home & your lifestyle?
Will SOM Blinds be able to supply all the products you're after?
At SOM Blinds we manufacture all of our roller blinds & can also supply & install any other window furnishings you're after.  
Our team are able to source all the latest fabrics from any of Melbourne's fabric houses for your curtains & roman blinds.
Sounds complicated?
We understand automating window furnishings. Our expert technicians understand how to integrate your window furnishings with whatever brand of home automation you're planning to use in your new home or renovation.
somfy, connexoon, alexa, cbus, control 4, leviton, fibaro, dynalite, knx
How do I explain all this to my builder or electrician?
We love to work in partnership with you & your design & construction team.
  Our sales technicians & installers can meet onsite with your builder & electrician during construction to ensure nothing gets lost in translation between sales & installation.  
Move in day is when?
Our job is to make sure you end up with amazing results ready for your new home or renovation on move in day!
You want all of your window furnishings installed & ready to use.  
We want you to love using your all of your custom made window furnishings   everyday.
Get a complimentary quote for your blinds
SOM Blinds is a Melbourne-based supplier of quality custom-made electric blinds, shutters, curtains and retractable roof awnings. We conduct all our blind installations to the highest standard. All our window furnishings are customised to perfectly fit and complement your decor and facade. We take pride in ensuring that you get exactly what you're looking for by working closely with you and providing you with different options in style, colour, texture and size. Contact us on 03 9808 1807 to discuss your needs.
Book a timeslot to visit our showroom in Burwood to discuss and view our range for yourself. Alternatively, we can arrange a site visit to discuss your needs: we service clients based in Melbourne and its surrounding suburbs including Malvern, Brighton, Kew, Caulfield, Glen Iris, Glen Waverley and Camberwell.
our client referrals keep us in business
Our aim is to keep it that way 
Above & Beyond, is what you get from Bernie & his awesome team. These guys have done a number of jobs for me, at home and our business. 10 years later and your blinds still make us smile. Fantastic range, well and truly up with the latest and greatest. Always a pleasure.
I highly recommend Bernie's blinds and curtains which he tailors to any requirement.Bernie is friendly and professional, and delivers great service.
Thanks Bernie for advising us on our sun blind, delivered on time and installed professionally and efficiently, I will definitely recommend you to all.
After quite a bit of research, we definitely made the right choice of supplier. Bernie really knows his stuff. Great to be in good hands.
The SOM blinds team have been an absolute pleasure to work with from start to finish. They are exceptionally knowledgeable, professional and creative. Their attention to detail is a credit to the team. I can highly recommend their services and would not hesitate to use them again myself. Thanks again SOM Blinds!
From start to end Bernie and his team provide the very best service & quality. Throughout the process they make each step easy & fun to be involved in, from picking colours & finishes for blinds ( in their lovely showroom) to a quick turn around of installation time and fantastic installation of the blinds.Very happy with the final product - highly recommend 🙂
We could not be happier with the service and expertise from Bernie and his team. The quality of the blinds and plantation shutters is exceptional, they look fantastic. We will continue to use SOM Blinds in the future. The price was right too!! Thank you to Bernie and the friendly staff at SOM Blinds.
We used Som Blinds in 2013 for our new house at Mt Eliza. We found Som Blinds to be very professional and easy to work with. Everything that was promised was delivered. Now, after over 6 years, a couple of things... Everything is still working as good as new, which is quite amazing. We had caused some damage to some of the blinds ourselves, so I called Som Blinds, and within a few days Bernie turned up, with the same smile, and fixed our problems. I rarely write reviews, but I felt the need to, with such great products and service.
Highly recommend SOM Blinds. I've had Bernie install Blinds & Shutters at my last 3 properties. Always turns up on time, priced really well and his installers have been with him for years & do a top notch professional job. Have been super happy with the results.
It was a pleasure doing business with SOM Blinds. From start to finish, the whole process was smooth, efficient & reliable. The staff were extremely helpful at all times. The blinds look fantastic. Highly recommend Bernie & his team! Thanks for a great job.
I recently had my shutters installed by SOM Blinds & I couldn't be happier, their expertise & the excellent service by the whole team was a very pleasant experience. I highly recommend SOM Blinds. Thankyou
SOM Blinds did a great job on our inside and outside blinds. Efficient service, great support & advice on the different options & fabrics we could choose from, excellent final result. Meticulous care was taken with the installation of the blinds. Extremely impressive. We are very happy and would highly recommend using SOM Blinds
Cannot thank Bernie & the team enough for an amazing job! The blinds are built strong and durable, and the electric blinds are definitely a game change. Highly recommend SOM Blinds, the whole process was very seamless.
Recommended by a friend. SOM Blinds were impressive to deal with, the process was so easy. Big Bernie was a pleasant man to deal with, whom arrive on time, measured up promptly, listened attentively to our requirements, provided some options and the prices were remarkably competitive. They delivered when promised and installed with ease. SOM were very professional and trustworthy to have in your home. They are an A grade company!
We saw some shutters at a friend's house that looked great for us, and she highly recommended Bernie and SOM Blinds. Apart from the great product, I really appreciated the no-fuss efficient approach to installation. My daughter was jumping on her bed and broke one of the slats. We told Bernie, and he kept letting us know when he'd be nearby, and reminding us to organise a time to do the repair. He's just been to do the repair, and didn't charge. Again, efficient and comprehensive service
Our firm has worked with Bernie on and off over the last 20 years so when it came time to get blinds and external louvre's installed in our own new build there was never any doubt who we'd be using. Bernie and his team provide the same level of expertise & attention to detail we put into each of our designs. And the pain free installation process is a credit to Bernie's meticulous nature. Great work Bernie - we couldn't be happier.
This is the third time I've used Som Blinds for blinds in our house. From the measuring up, to dealings with the office staff, to installation - excellent.
Thanks Bernie The boys did a aweSOM job on the installation and the place was left spotless. Look forward to the install at my place next.