External awnings, blinds, curtains and other renovation considerations
There's a lot to think about when it comes to your home makeover, however knowing how to plan a home renovation and what needs to be considered will make it more manageable. Window renovations and choosing the right window treatments for your home are no different. We've put together this quick guide to help you choose the best windows and window furnishings for your Melbourne property.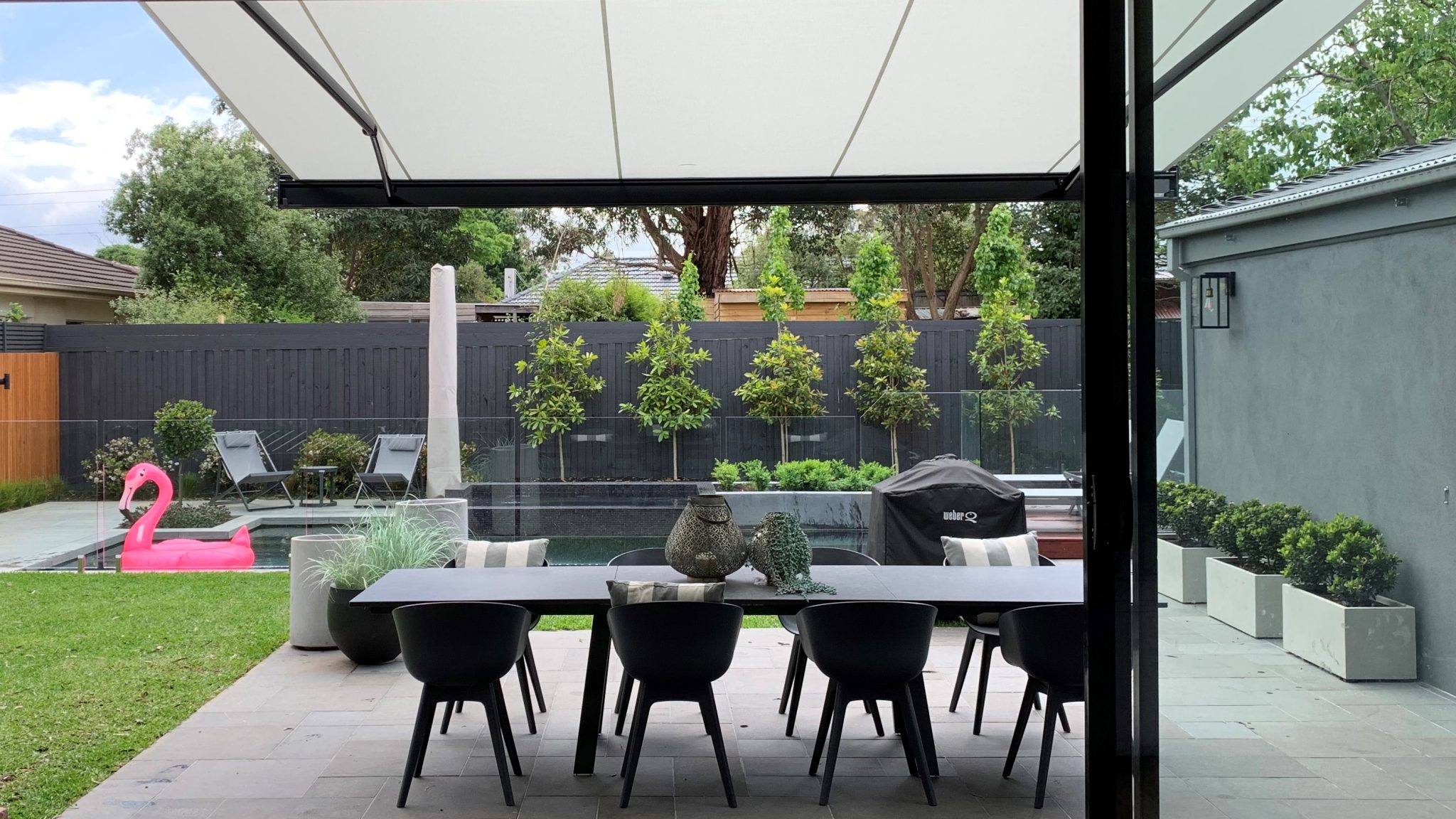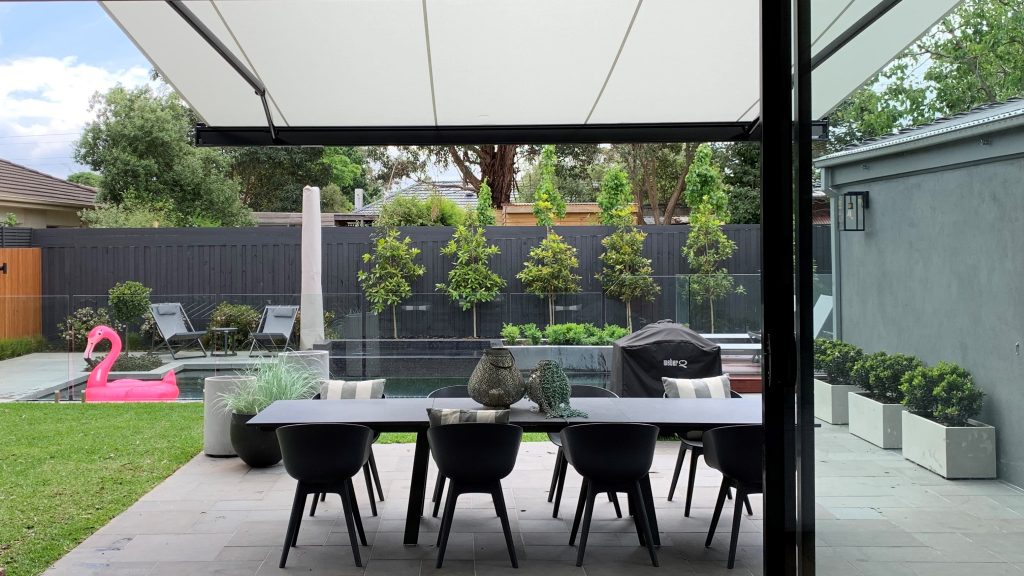 What to consider when renovating windows and doors
Selecting the right windows and window treatments are just one of several important construction considerations for house extensions. Here are five factors to think about when picking window frames and treatments for your home.
Know why you're renovating:

Think about the reasons for your home improvement project so you can decide on the right door and

window renovations

that meet your needs before you get started

. Do you want a better view, to improve air circulation inside your home, or to increase your home's energy efficiency? Windows can also help to link your indoor and outdoor spaces, and allow in more natural light. Speak with a home building expert to help prioritise what is most important to you—this will lead you in the right direction. 

Window and door frame materials

: Timber and aluminium are two popular types of materials for window and door frames. Wood is a natural product with a range of warm colour options, and also helps to improve energy efficiency. Timber frames can match the interior trim of your architraves and skirting boards, but they will need regular maintenance. Aluminium is strong, lightweight and resistant to rust and mildew, requiring minimal maintenance.  Aluminium windows with a thermal break—or barrier between the inside and outside window frames—also improve energy efficiency. Their sleek profile is ideal for modern home designs.

Blinds or curtains

: When thinking about the best window coverings for your home in

Melbourne, blinds

and curtains are available in a vast range of options and offer many practical benefits. While curtains are fitted inside your home, blinds can be fitted throughout the interior and/or exterior, depending on the results you're hoping to achieve. Different window dressings offer varying levels of energy efficiency, privacy, durability, and insulation. 

Hire experienced professionals

: Staying within budget is important, but it's equally important to carefully consider options other than cost before choosing a contractor. Find out if there are licensed experts in your area and get recommendations where possible—they're the most likely to do a professional job the first time around, saving you time, money and effort in the long run. 

Bonus Pro Tip:

You may want to consider concealed or recessed pelmets to improve the energy efficiency of your internal window furnishings, or to simply hide the hardware, such as tracks and brackets, needed to operate your blinds and curtains. If you are considering curtains, think about where they will stack so they don't end up covering too much of your glazing when open.
Double-glazed windows are sometimes overlooked when renovating a home, although they have many benefits. They're a lot more cost-effective than they used to be, reduce noise pollution, and maintain a comfortable temperature indoors. Double-glazed windows also help insulate your home, so it's comfortable inside no matter how hot or cold it is outside. Adding curtains, internal blinds and external blinds will improve room temperature and the overall energy efficiency of your home.
The layout of your home can be guided by passive design principles in order to work with the local climate and achieve a comfortable temperature indoors. In Australia, our north-facing rooms get the most sunlight while south-facing rooms receive mostly indirect or reflected light. Rooms with less natural light need more energy to stay warm in cold weather. Changing the layout of your existing floor plan and considering the placement and size of rooms and windows to take advantage of passive design principles can greatly improve the livability of your home.  
North-facing windows allow for energy from the winter sun to be absorbed into your home and released when it cools down outside. Ensuring north-facing windows are properly insulated in winter and shaded in summer will help with your home's energy efficiency. Curtains and blinds can assist with this.
Carrying out a home renovation is often a once-in-a-lifetime opportunity. To get the most value from your remodel, choose products and materials that offer longevity along with low maintenance costs. 
For window renovations that are lasting and don't need much maintenance, aluminium frames with double-glazed windows and a thermal break are an excellent choice. They can be easily customised to fit different window shapes and sizes, and they're sometimes more economical than timber. 
An alternative to aluminium is the warmth of timber. Although the type of timber you choose will affect the durability of your window frames, well-cared-for timber windows generally have a longer lifespan than other alternatives. Durability depends on long term maintenance regardless of the timber you choose. With regular cleaning and care, and a repaint every 7-10 years, timber window frames can last for decades. Factor maintenance time and costs into your decision, and discuss the types of timber available with your window supplier, who will be able to tell you about the attributes of each. 
While their lifespan is not always as long as timber or aluminium, uPVC frames are also considered to be durable and low maintenance, just requiring regular cleaning to keep them looking great. 
Bonus pro tip: Replace the entire window and its frame rather than opting for partial replacement. While there are some exceptions, fitting new windows into old frames or patching damaged areas of the frame typically end up compromising durability and costing more money in the long term.
If you are planning to install outdoor or external blinds, ensure you have the right structure to support them as part of the renovation, even if you won't be installing them straight away.  Ask your building designer or engineer to ensure the lintels over your patio doors can support the weight of an awning or outdoor roof system.
If your outdoor space gets the late afternoon sun, consider some outdoor shading such as a pergola or retractable folding-arm awning. Factor this into your project plan, as external blinds or roof systems over outdoor entertaining areas are often an afterthought, and are more difficult to install post-renovation.
Using external blinds and awnings for outdoor shading can look stylish and its benefits include improving your home's energy efficiency and giving a heightened level of privacy, along with protecting your floors, furniture and other belongings from sun exposure. 
Motorised blinds can be controlled using a remote control or app on your phone. Your motorised blinds can be automated and integrated with your smart home system, making them even more convenient. Manage your automated blinds via a mobile device or have them operate at pre-set times, even when you aren't at home.
Customised external blinds for your Melbourne property
At SOM Blinds, we supply a number of external blind options that are custom made to fit your windows. Some of our most popular products are: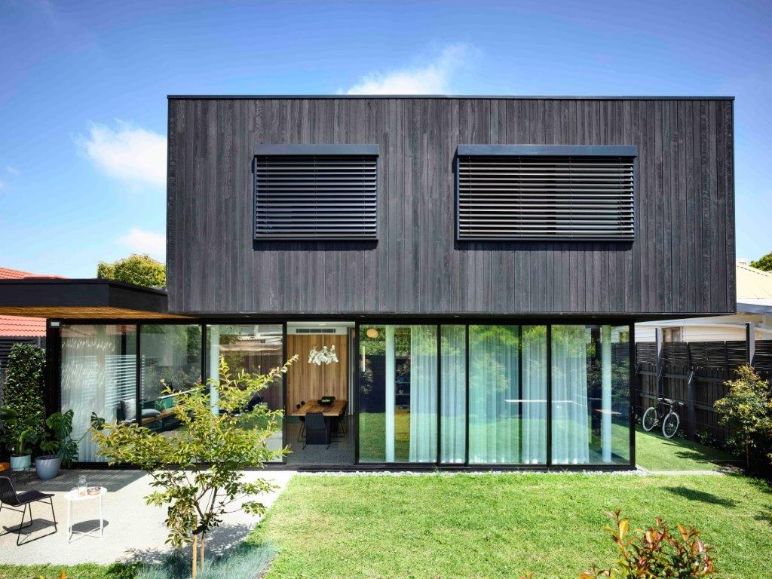 External Venetian blinds:
 Venetian blinds are a reliable heat and light control solution for your Melbourne home. They can be lowered or raised and the angle of the slats can be adjusted, depending on how much natural light you want to allow in. We ensure that your external Venetians are custom fitted, and they can even be recessed behind your home's facade for a concealed finish if planned during the design phase of your build.
External plantation shutters
These shutters strike an ideal balance between traditional and contemporary looks. Plantation shutters are extremely durable and are generally made from timber and aluminium. Timber plantation shutters can be made to fit wider spaces without sagging. Aluminium plantation shutters are lightweight and non-corrosive—perfect for enclosing outdoor entertainment areas to protect you from the elements.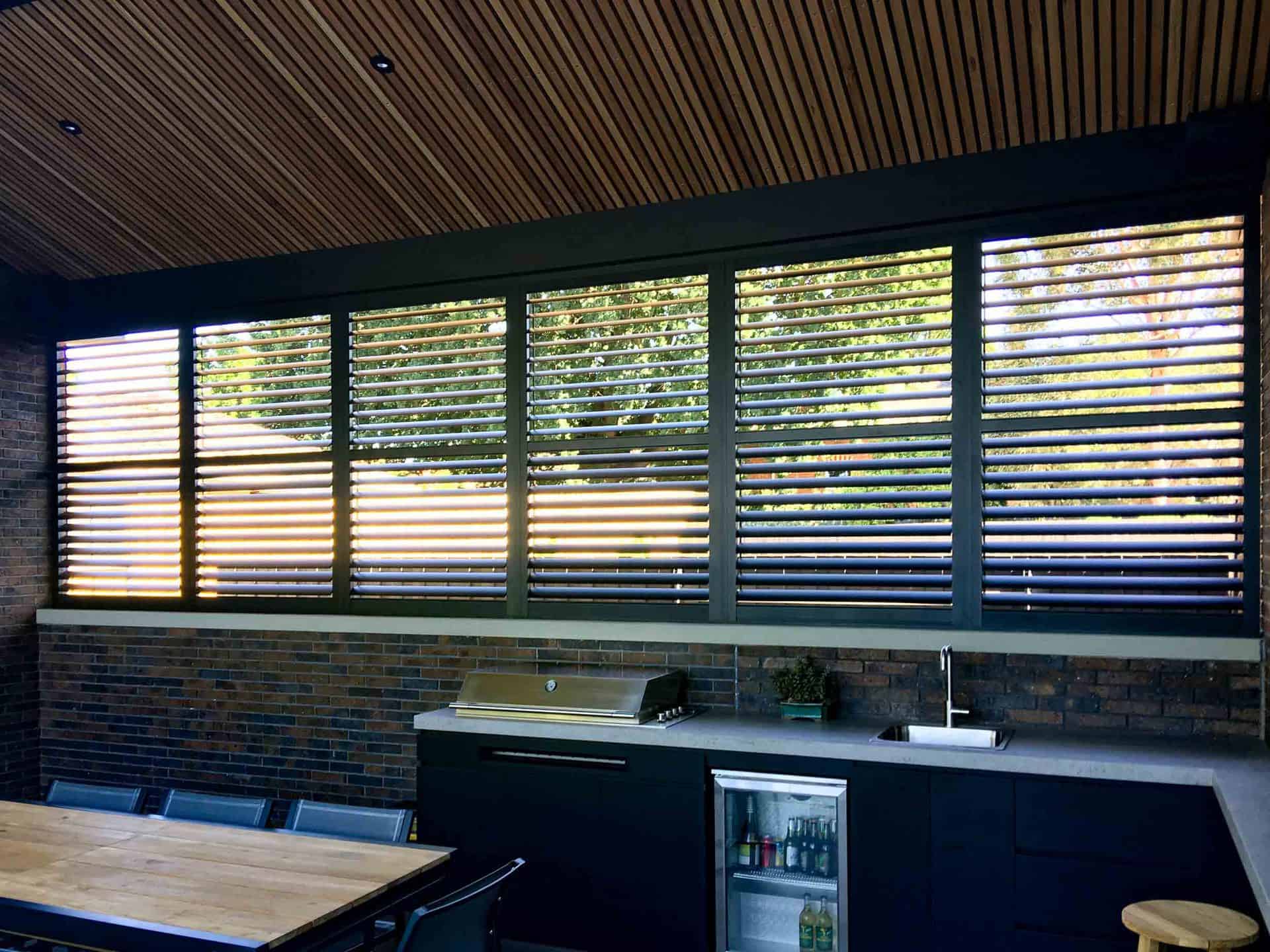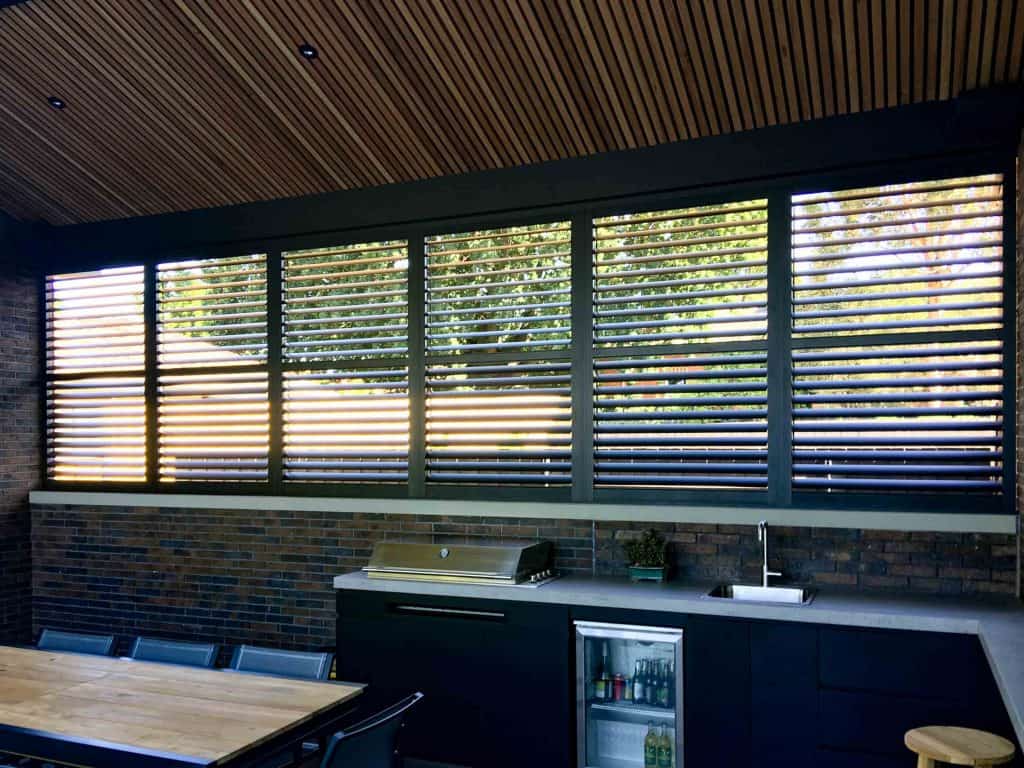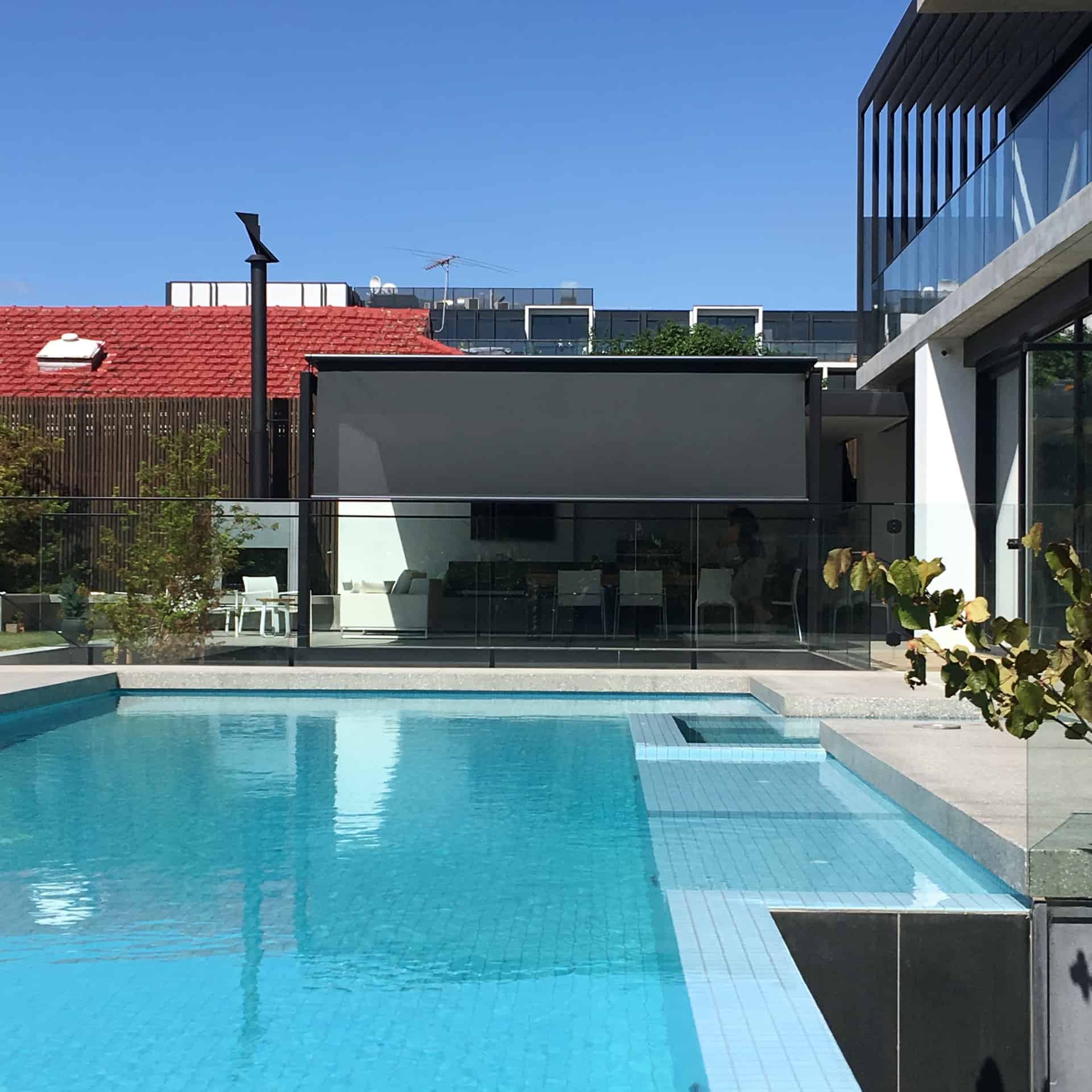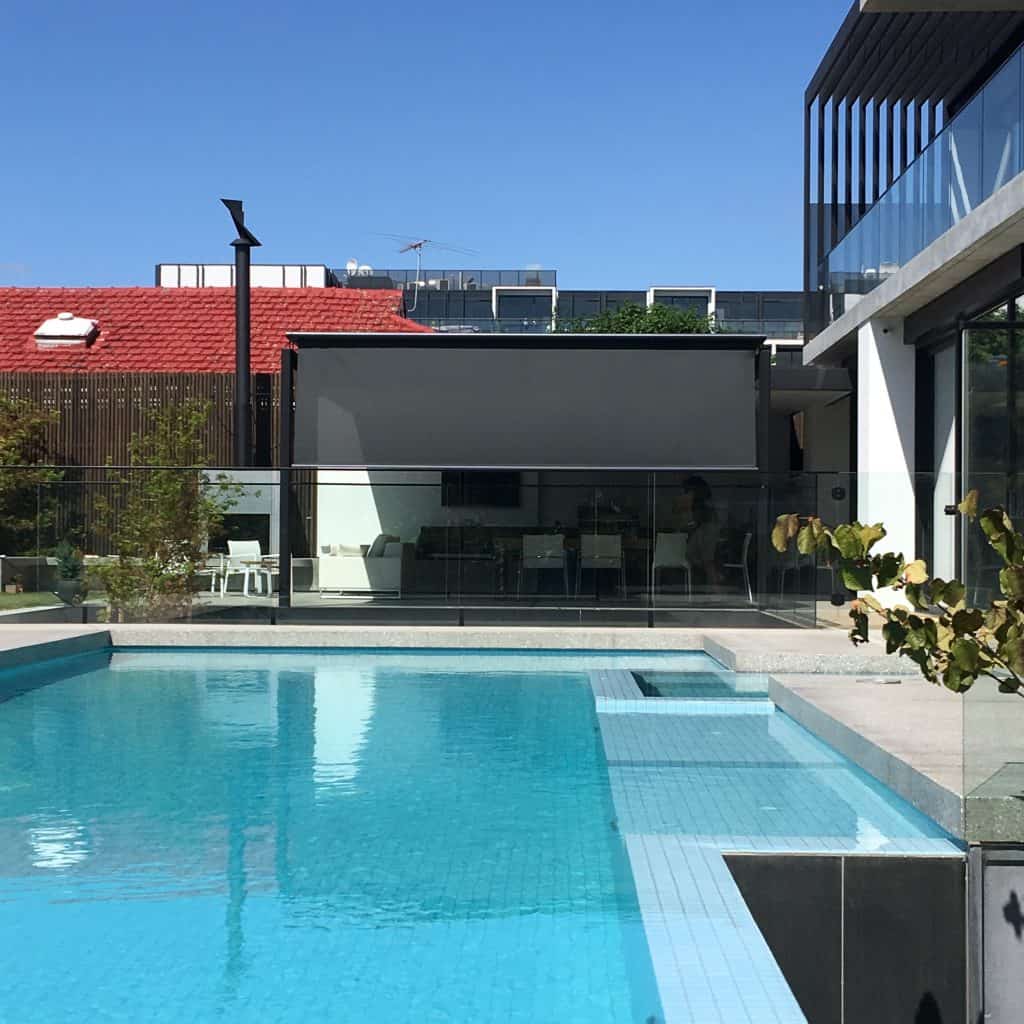 Window awnings are an ingenious way to make the most of your outdoor space, and help protect you from harmful UV rays while enjoying all the benefits of the outdoors. These retractable roof systems are made from strong materials and premium fabrics, well-suited for shading poolsides, patios, backyards, gardens and balconies. When not in use, retract them to open up the space. They can be motorised and automated to work with your smart home system alongside other external and internal blinds and curtains.
To help you choose the most suitable external window dressing, consider how you plan to use your garden or patio. Is your outdoor area spacious, and a good place to entertain guests? Or is it smaller but full of plants that you'd love a clearer view of? A retractable awning is the best way to shade your guests while entertaining in the garden, while external Venetians can give you an uninterrupted view of the outdoors throughout the day.
Discover a range of window treatments at SOM Blinds
Spending time planning window renovations when remodelling your home can make the whole result much more effective. It's simply impossible to list everything about internal and external window treatments here, so browse our website and take a look at our planning guide, then give us a call or make an appointment to visit us at our Burwood showroom. We'd love to speak with you about the best window furnishing options for your home.  Call 03 9808 1807 to speak to an expert at SOM Blinds today.