Cellular Blinds – Energy-Efficient Thermal Window Coverings
Honeycomb blinds, also known as cellular blinds, are specifically designed to provide insulation to your windows resulting in improved energy efficiency for your home. Honeycomb blinds are fast becoming a very popular choice for homeowners in Melbourne. Many designers, ourselves included, still need to give honeycombs the consideration they deserve. We must admit to being surprised by how great they can look in the right situation and how incredibly effective they are. We've been getting great feedback from architects and clients looking for energy-efficient blinds and decided to give honeycomb blinds a go!  
If you're looking for an energy-efficient, modern window covering that looks great, can reduce energy bills, and adds comfort to your home, contact us now.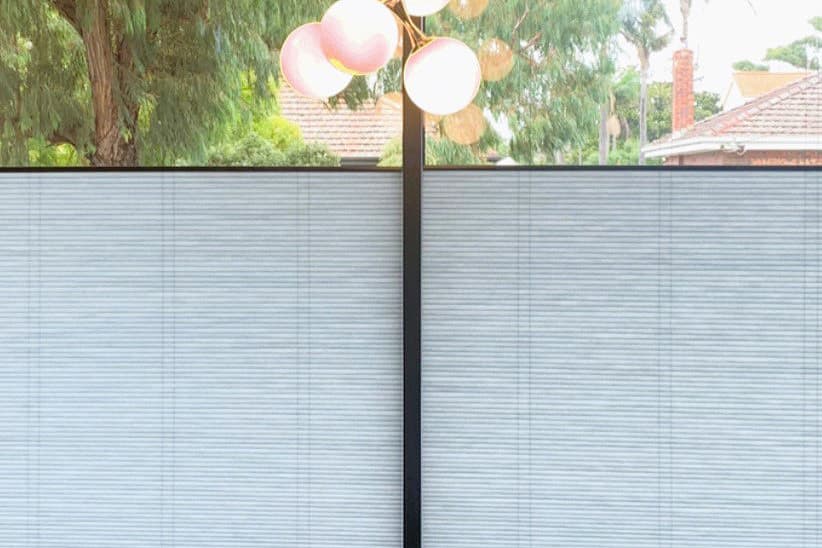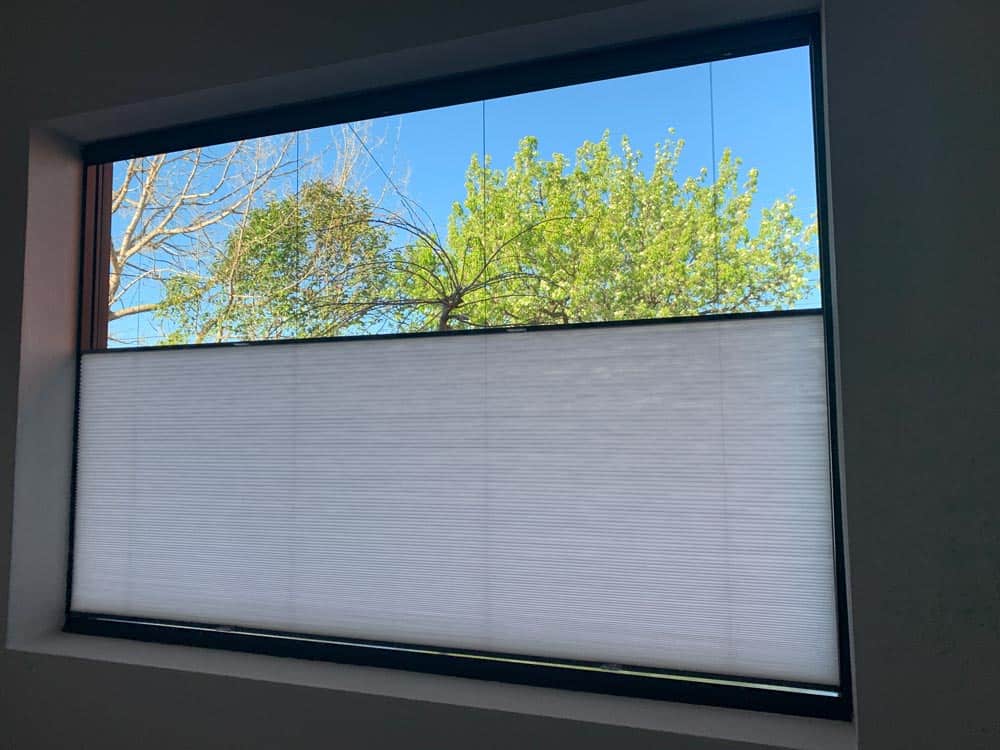 How honeycomb/cellular blinds work
The simple cell design used in cellular blinds traps air between two or more layers of fabric arranged just like a honeycomb in a beehive. These air cells trap air which insulates the glazing in your windows, preventing heat loss in winter and heat gain in summer. 
One of the main aims of any window furnishing is to help keep our homes warmer in winter and cooler in summer. The unique cellular structure of honeycomb blinds is perfectly designed to do just that. Honeycomb blinds effectively address the three main reasons we have window coverings in our homes–preventing heat gain and loss, managing light control and providing privacy. We can advise you on the best options to meet your priorities regarding insulation, heat or light control, operation and privacy.
Design Options of Honeycomb Blinds: Slimline Design & Extensive Colour Options
The slimline design and clever stacking system of honeycomb blinds mean that they don't create a bulky stack when fully opened–the cell size and drop (length) of the blind will impact the exact stack size. Honeycombs can span windows up to 3 metres wide.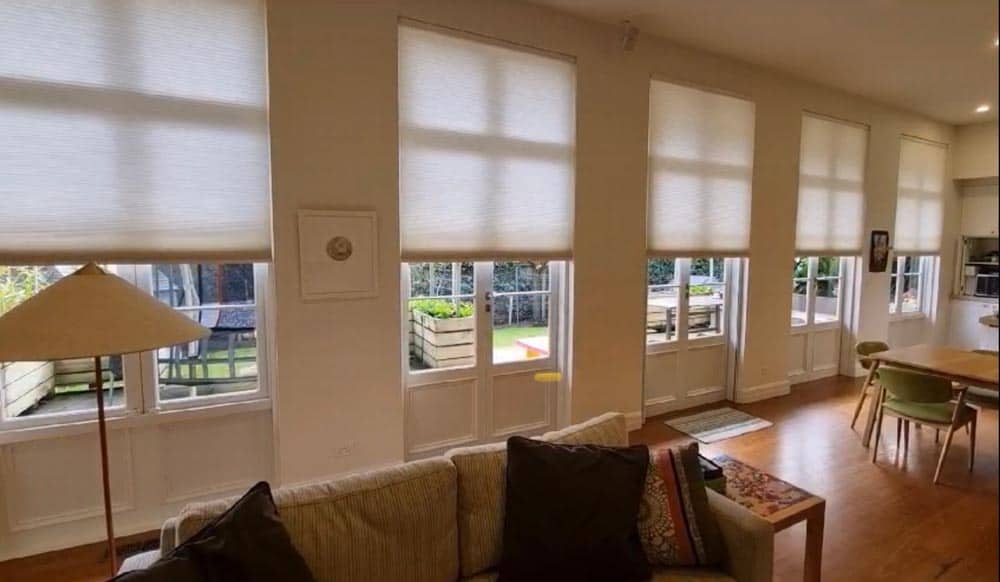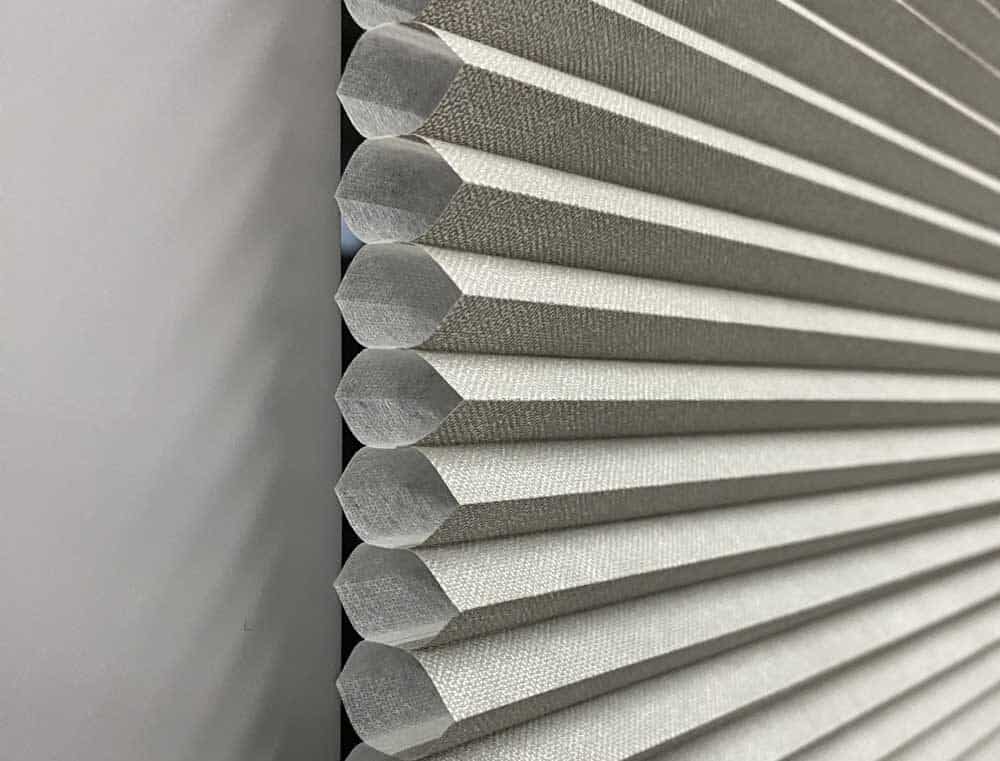 Acoustic benefits of Cellular Blinds: Noise dampening
Honeycomb blinds won't soundproof your room, but they can certainly help dampen sound. Their cells, especially double-cells, will provide you with a better sound barrier than a single roller blind will.
Advantages of honeycomb cellular blinds
We know that windows are one of the weak spots when it comes to energy efficiency in our homes, so insulating them with cellular honeycomb blinds is definitely worth considering. Honeycomb or thermal blinds are very popular in colder climates. In Australia, we can benefit from the potential energy savings in both summer and winter by using the right window furnishings, such as cellular shades, to help make our homes more comfortable. 
The statistics from an energy efficiency study support that you can improve the energy efficiency of your home using thermal blinds such as honeycomb blinds. The insulating cells in a honeycomb blind range from 25 millimetres to 62 millimetres and can be arranged in a single or double-cell layout. The larger the cell, the better insulation they provide. Cellular blinds can reduce the energy load on your air conditioning by over 30%, which can quickly add up to significant savings on your energy bills.  
If you're about to build a new home, consider the benefits window furnishings, and honeycomb blinds, in particular, could bring to your home. It's worth looking into your window furnishing options when making sure your new home complies with the new Victorian Government 7-star energy ratings commencing in October 2023. When planning your new home, choosing window furnishings that enhance your 7-star rating can help you make the most of your solar energy using automation and smart home technology. We have 21 years of experience helping homeowners integrate their window furnishings with automation. We can advise you on how to make the most of the solar energy you generate using technology to control your blinds and curtains.
Honeycomb blinds are available in three light control options, giving you the flexibility to choose the right level of light control for your windows. Choose from room darkening, translucent (light filtering) or a sheer fabric.  
Room darkening honeycombs can provide you with almost 100% light block. If room darkening is a priority for you (maybe you're a shift worker or have a new baby in your family), make sure you discuss this with us so we can help you find the best solution for your home. Honeycombs, like most window furnishings such as blinds, curtains and plantation shutters, will almost always have a small amount of halo light or light bleed around them, even at night time. This halo effect can be eliminated with some of the honeycomb options supplied by Norman Australia. We've been combining honeycombs with plantation shutters with great effect, achieving 100% light block at night with all the benefits timber shutters provide during the day. 
Using light-filtering fabric, sometimes called translucent fabric, will allow filtered daylight into your home–a perfect solution for any room where managing daytime glare or privacy is important. Translucent fabric works well in street-facing rooms or rooms orientated to the north or west, reducing glare as well as creating privacy.  The day/night blind option allows you to combine a sheer honeycomb with a room-darkening or light-filtering honeycomb blind in the same unit.
A sheer fabric honeycomb will give you minimal daytime privacy and allow you to enjoy the view from your window while reducing glare and UV damage.
There are numerous operating systems to choose from when selecting cellular blinds. We have all the options available to show you at our showroom–cordless, cord operated or motorised. There's exactly the right operating system for any situation. Cordless and motorised honeycombs minimise the risk of injury to children or animals and make it easy for anyone to operate. Motorised honeycomb blinds are perfect for large or hard-to-reach windows or anyone without the dexterity to manage a corded blind. With blind cords now illegal on all new window furnishings in the US, our shutter supplier Norman Australia is a world leader in creating cordless window furnishings. 
Some honeycombs have a unique feature of operating in both directions called top down, bottom up blinds. Using a top down, bottom up honeycomb blind gives you greater flexibility allowing you to position your blind perfectly at different times of the day to provide privacy and access to your view at the same time. This feature is also used in the Norman day/night blind range, allowing you to combine fabrics in the same unit–sheer and blockout or sheer and light filtering.
BROWSE OUR RECENT PROJECTS
convenience | energy efficiency | increase product lifespan | safety | ease of use
Honeycomb blinds: The perfect solution for energy-conscious homeowners
SOM Blinds are big converts to the world of honeycomb blinds! Learning how well they perform, we now confidently recommend them and would love to help you select the right option for your home.
Call us to find out more or to make an appointment to visit our showroom in Burwood, where you can view our honeycomb blind range in action and experience how easy they are to operate, or we can easily make time to visit your home with our samples.
Our SOM Blinds team based in Burwood are here to help homeowners, builders, architects and designers with their window furnishing needs for new builds or renovations anywhere from Northcote to Port Melbourne, through Melbourne's East, South and South Eastern Suburbs.