ENERGY EFFICIENT HOME DESIGN AND WINDOW FURNISHINGS

Energy efficient home design is not all about your roof, walls and windows.  Window furnishings can also make a significant difference to the energy efficiency of your home.  When planning your new home or renovation, be sure to discuss your interest in energy efficient home design with your architect or building designer.   Have you thought about the type of window furnishings you'd like?  It's also important for you to consider what type of window furnishings you might need to ensure your home will be as energy efficient as you'd like it to be?   Energy efficient home design can seem complicated but it's not really.   Designing your home using the principles of  passive design will help make your home more energy efficient.  When it comes to windows there are 5 main things to consider – orientation – window size – existing or proposed shading – the type of glazing – window frame design including the material the frames are made from & their shape.   The presence or absence of eaves and the depth of your eaves will impact how energy efficient your home will be.  Remember short term savings made during your build may actually result in significant long term energy costs.
WHY ARE WINDOW FURNISHINGS IMPORTANT WHEN DESIGNING AN ENERGY EFFICIENT HOME?
Window Furnishings are not just decorative.  
Window furnishings provide many other benefits depending on the products you choose.  Your window treatments might be purely decorative but they can also provide heat and light control, privacy, reduction of glare and or enhance the acoustics in a room.  
The energy efficiency of your home will be improved by selecting window furnishings that help minimise the transfer of heat in & out of your home. The right window furnishings can dramatically change the amount of heat transfer which can then result in a reduction of your heating and cooling costs.  
To maximise the improvement in the energy efficiency of your home design, it is vital that your window furnishings are measured, manufactured  and installed perfectly.   This will ensure gaps that can allow heat to escape or enter are kept to a minimum.  Correctly sized and placed pelmets can also play an important role in how effective your window furnishings perform.  
Correctly sized external awnings can provide the ideal amount of shading to prevent heat entering your home during the summer months.  
Selecting the most appropriate fabrics in the right colours can also impact how energy efficient your window furnishings will be.  <
To find out more about how window furnishings can improve the energy efficiency of your home book a consultation with one of our design team

THE 5 MOST IMPORTANT THINGS TO CONSIDER WHEN LOOKING FOR WINDOW FURNISHINGS TO IMPROVE THE ENERGY EFFICIENCY OF YOUR HOME
orientation
size
installation
automation
design
ORIENTATION & ENERGY EFFICIENT HOME DESIGN
In Melbourne we all now that we can experience weather extremes. Depending on the orientation or direction your windows are facing and what the rooms are to be used for your window furnishing solutions will vary.
Energy efficient home designs ideally allow you to enjoy morning sun and provide access to shade or sun depending on the season. In the afternoon east facing windows allow you to enjoy all the benefits the early morning sun especially in bedrooms. On all but the hottest summer days having internal window furnishings is usually adequate. If daytime glare is an issue using a dual system of a blockout and a sunscreen blind works well. A dual blind system provides night time privacy using the blockout blind and filtered light using the sunscreen blind during the day. The combination a sheer curtain with blockout blind in your bedrooms or living spaces can also provide added privacy and filtered light during the day. Having programmed or automated motorised blinds in your bedroom is a great way to wake up.
NORTH FACING WINDOWS are especially sought after for living spaces as there is nothing better than enjoying the warmth of the winter sun through a North facing window.
SOLAR ACCESS TO THERMAL MASS IN YOUR HOME CAN REDUCE HEATING BILLS
The low level of the sun in winter allows it to penetrate further into your home than it does in summer. This warmth can be absorbed by any thermal mass available in your home such as your concrete slab. The warmth absorbed will then be released as the night cools, potentially reducing your heating needs and costs. Well installed internal window furnishings can further reduce the energy lost out of your windows as the night cools. Heavy blockout curtains installed into pelmets or single or dual cell honeycomb blinds well fitted into window reveals are a great way to keep the warmth inside during the winter months.
Sunscreen blinds will reduced the heat gain during summer while still providing access to light and not obscuring your view. External blinds or awnings on North facing windows will reduce the amount of heat gained during summer, especially on windows with no eave protection. The colour of your blinds can also increase or decrease the amount of heat absorbed or reflected. Dark colours absorb more heat while lighter colours will reflect heat. The clarity of your view through sunscreen blinds will also vary depending on the colour and the openness of the weave.
WEST FACING WINDOWS are the windows that cause the most heat gain into your home. External blinds are your best option when it comes to reducing heat gain. They can be either blockout or sunscreen, this choice will be influenced by things like your need for privacy or whether you have a view you don't want to lose.
SOUTH FACING WINDOWS result in little heat gain during summer but will result in heat loss during winter. External blinds are not usually necessary on south facing windows unless needed for privacy. Well fitted internal window furnishings will definitely help prevent heat loss during winter. Internal honeycomb dual cell blinds are great at keeping winter warmth in and are very effective in colder areas. They can be used in conjunction with plantation shutters providing an aesthetic and practical solution at the same time. Norman Australia's Shutter+Shade solutions provide the best of both worlds complete blockout. Light bleed which is sometimes a deterrent for some clients when it comes to shutters will love this option.
Aim to KEEP THE HEAT OUT in summer & the WARMTH in during winter
By selecting the right combination of glazing  & window furnishings you are well on your way to effectively controlling the heat energy entering and leaving your home.  Good energy efficient design choices result in making your home more comfortable year round.  Getting good advice and planning your build carefully  ensuring you have all the right structural elements & electrical wiring in the right places with built in pelmets correctly sized and placed will go a long way to ensuring your window furnishings perform effectively.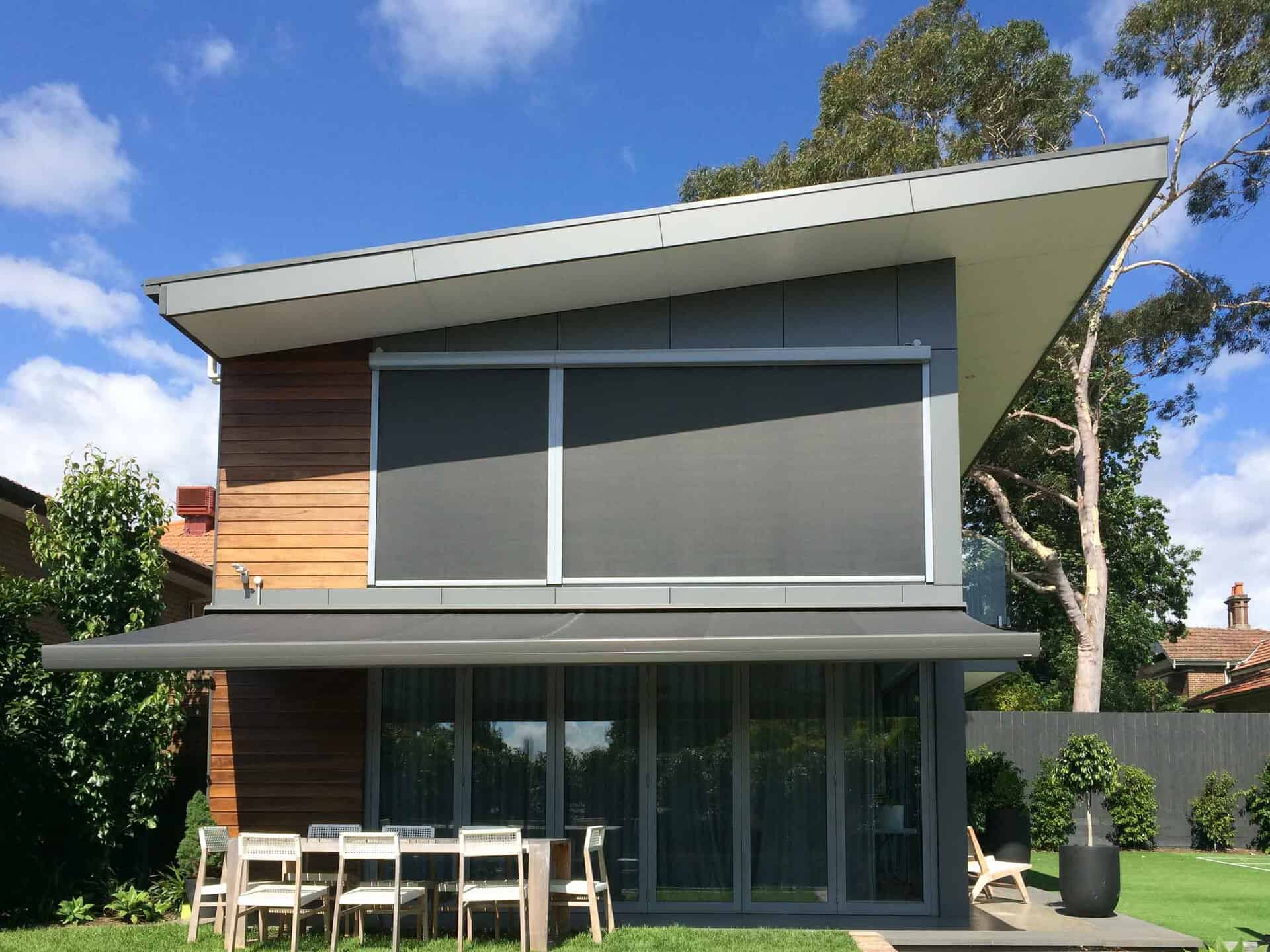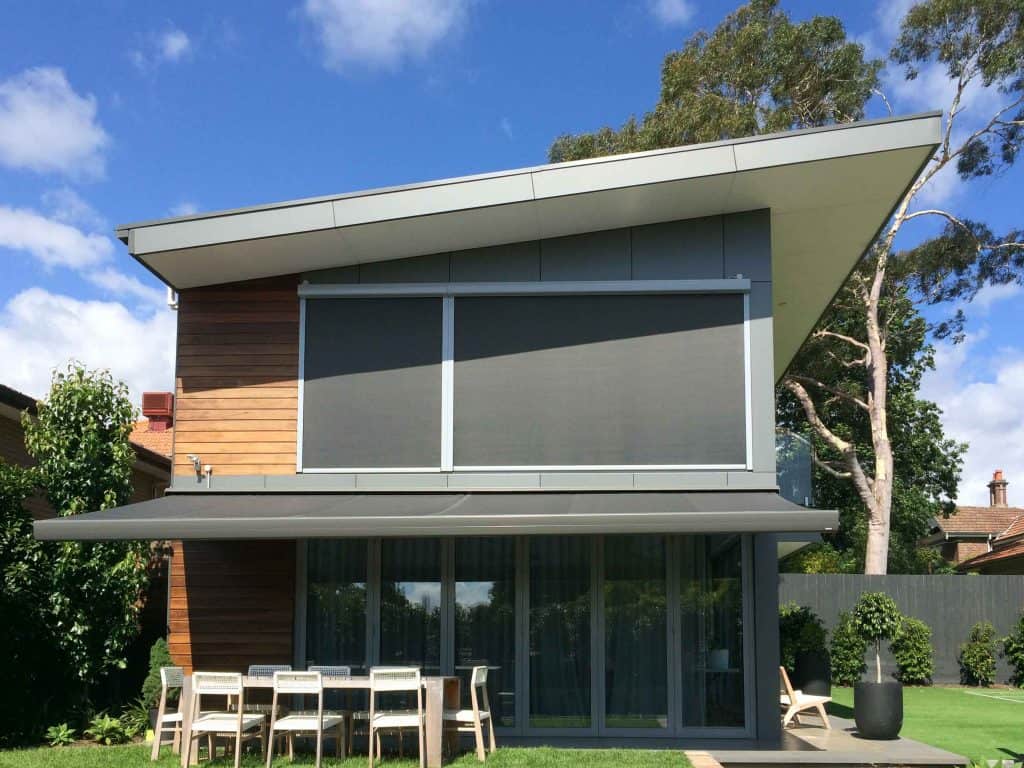 EAVES OR NO EAVES? – How energy efficient are they?  External blinds are a great  way to limit heat transfer into your home especially when your home has no eaves. 
We have many new homeowners reaching out to us after their first Summer in their new home!  Despite spending large amounts of money on specialty glazing they will sometimes still experience uncomfortable levels of heat gain during summer and higher than expected heating & cooling bills.  Some developers build without much consideration for energy efficient home design by omitting eaves as it is more cost effective.  The long term increased energy costs that this can result in for homeowners is preventable.  
LEARNING FROM THE PAST
Look at how many of the homes built in Melbourne early last century were built with the weather conditions in mind.  The elements used provided passive heating and cooling which were essential before we had access to modern heating and air-conditioning.  Deep verandahs and hoods over windows were very effective at protecting homes in summer.  Make sure you discuss energy efficiency with your architect or building designer if having an energy efficient home is important to you.   
Landscaping can also be a very effective way to make your home more energy efficient, it can however be many years before you see the benefit of planting deciduous trees or vines to provide the shade sought in summer.
Skylights are another thing we often get asked to provide sunscreen protection for after people have been living in their homes for a while.  An automated external retractable skylight blind in sunscreen fabric is a great option that can greatly reduce the glare and heat gained through skylights during the height of summer.  
Think about protecting your furniture and even your clothing in walk in robes with open shelving or in any room with a large skylight.  We've seen entire wardrobes of clothing ruined from being hung in a WIR with no sun protection on the windows, leaving one arm of all of one our clients suits significantly faded.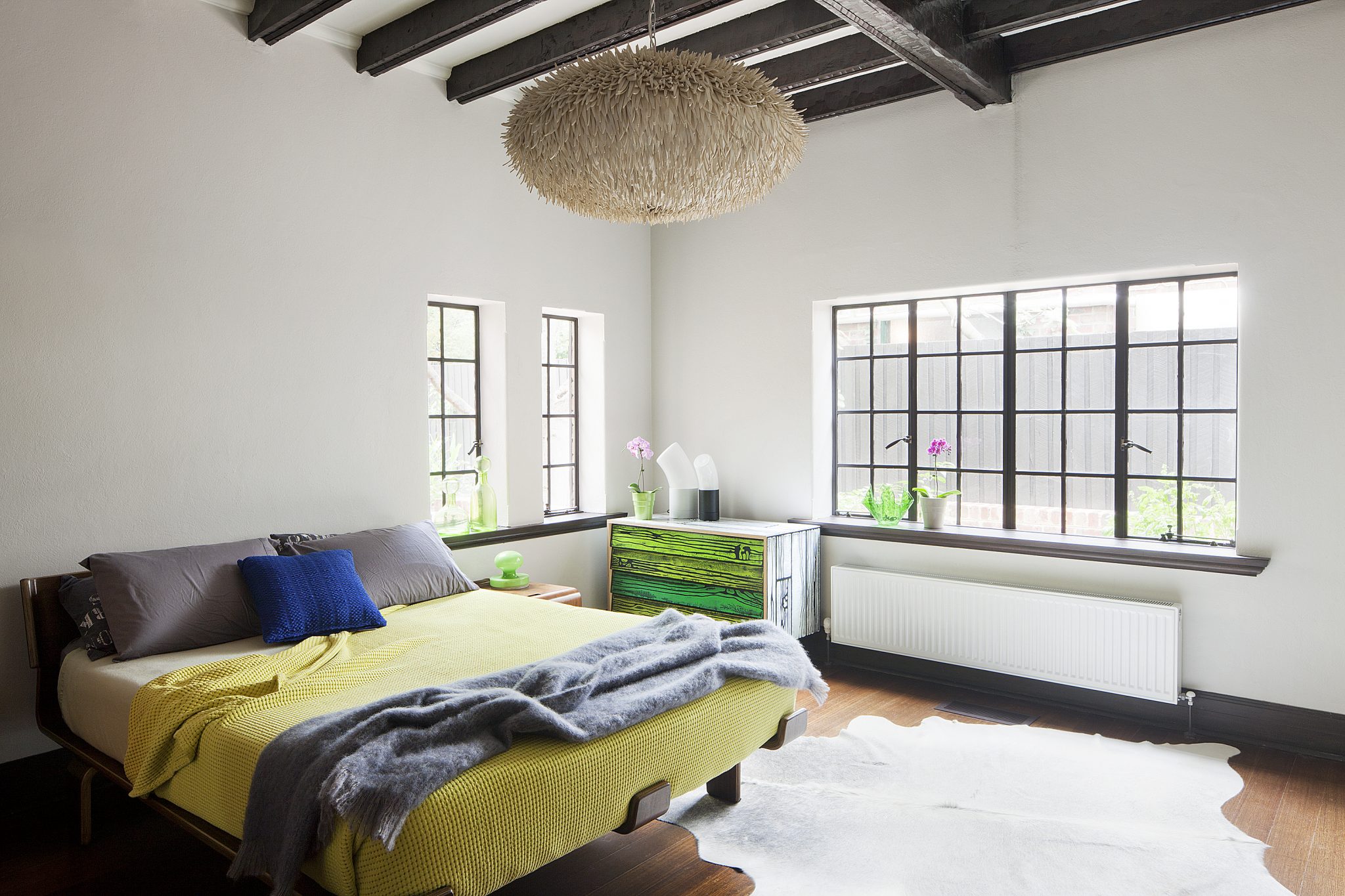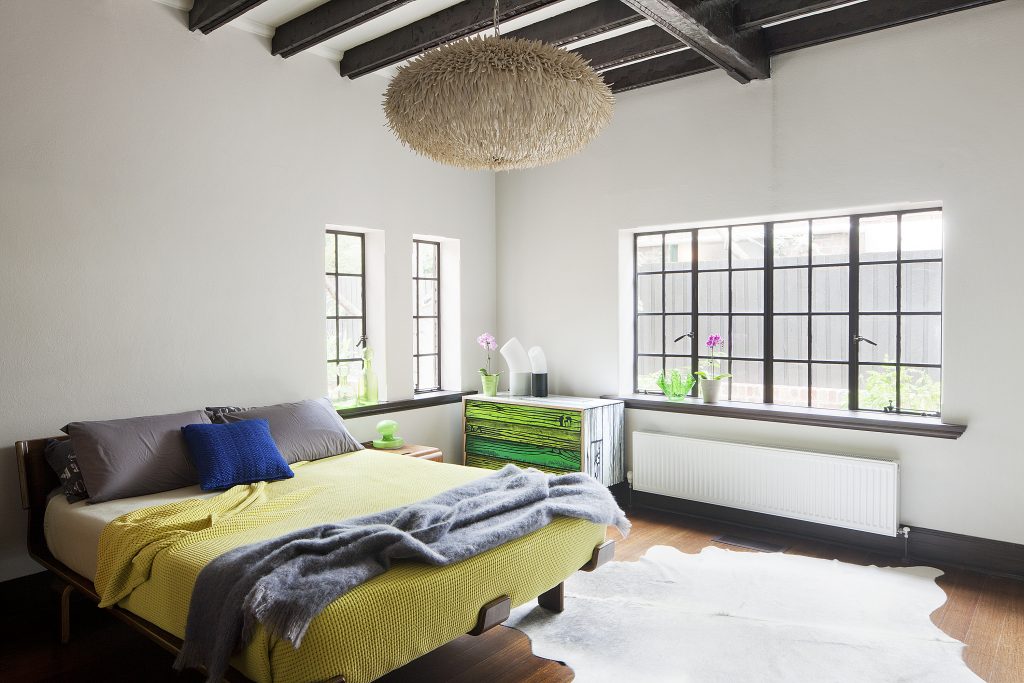 The windows are a big feature in this gorgeous Spacemaker Home Extensions project. We suggested using automated external blockout blinds and having no distractions, discreet cellular honeycomb blinds were installed to decrease heat loss in winter. All homes & windows come with their unique set of considerations and there is never one size fits all when it comes to window furnishings.
WINDOW SIZE & energy efficiency 
Remember when planning your energy efficient home design that the size of your windows will impact how much heat energy you lose or gain.  In Melbourne, large windows are great if they are East or North facing however you may want to consider keeping  windows facing West or South  smaller.  
Even with appropriately sized eaves large West facing windows will still need protection from the  late afternoon sun.  External shading of West facing windows is most effective as it stops the heat before it enters your home and will reduce the energy needed to keep your home cooler in summer.  External blinds, awnings  or the planting of deciduous trees can also be effective barriers to heat gain.
WINDOW DESIGN – SHAPE & STYLE
The style of window furnishings available to you is sometimes limited by the style or shape of your windows. Consider how far out your handles, the catches and window locks you choose to use stand out from your windows. For example, big chunky sliding door handles can prevent us from being able to install your blinds as close to the window as we would normally recommend. This can then create light and air seepage around the side edges of your blinds.
Casement windows that open out can limit your options when it comes to external blinds.
Consider angled windows carefully as they are very difficult for us to provide you with a solution that is functional, cost effective & looks great while still allowing you to still benefit from the light you are trying to access.
Make sure you discuss window furnishings for angled windows with your architect, designer or us before committing to them, especially in bedrooms. Providing complete darkness at night on angled windows isn't easy or cheap, especially if you still want to have plenty of light streaming in during the day. This is especially important for children's rooms or rooms where TV's or screens are being used.
Another design feature clients often struggle with is butt joined glass. It is nearly imposssible to completely light block butt joined glazing. You might consider using curved curtain tracks which are expensive and often not the look a room with modern glazing like this suits.
AUTOMATION – CONTROLLING THE TRANSFER OF HEAT
As already outlined your focus during summer is to prevent the transfer of heat into your home, especially through large east, north or west facing windows.  This is even more vital on windows with little or no eave protection.  Remembering even large eaves will offer little protection from the late afternoon sun on West facing windows. The focus in winter is keeping your home warm and limiting the transfer of heat out of your home.
You might want to consider using automated external blinds or awnings as an easy way to minimise the heat gain into your home during summer even if you're not around. Connecting external blinds & awnings to your home automation system using Somfy motorisation allows you to control & manage your window furnishings from wherever you might be, still in bed, at work, or even while away on holidays.  Combining this with wind and sun sensors can provide even more automated control of your shading systems.
THINK TWICE BEFORE LOSING ACCESS TO WINTER SUN ESPECIALLY IN YOUR LIVING AREAS
External  blinds, folding arm awnings or retractable roof systems like those from markilux Australia can provide you with summer shade.  Being retractable they also allow you to enjoy the benefits of the winter sun streaming into your living spaces.  Using an amazing app created by markilux we can show you exactly what an awning will look like on your home and exactly where it will provide shade at different times of the day and year.
Many people lose access to their winter sun by building a permanent shade structure.  This is great in summer but leaves your internal rooms dark in winter.  Retractable blinds and awnings provide flexibility as well as reducing the heat gain into your home during summer. 
Using heat and wind sensors together with a home automation program makes keeping your home energy efficient less challenging especially when using blinds on hard to reach windows.
 For more detailed information about passive design principles and energy efficient home design go to the Australian Government's Your Home webpage. 
Installation - why getting it right is vital
Where and how your window furnishings are installed will make a significant impact on their effectiveness when it comes to improving energy efficiency.
When installing your blinds or curtains if energy efficiency is your priority minimising gaps where air and light can seep is a priority.  That's where having someone who understands this measure and install your products can make all the difference.  
Using pelmets will also greatly improve the energy efficiency of your window furnishings.  Mounting window furnishings inside pelmets will limit the amount of heat loss.  Recessed or built in pelmets incorporated into your design also creates an uncluttered and effective way of concealing wiring and tracks etc.
Consider whether you want your blinds mounted on your architraves or inside the reveal.  There are options of side channels for blinds or honeycombs installed into window reveals which can create almost 100% blockout.  
When designing pelmets to be used with curtains don't forget to extend the pelmet beyond the window frames where you can so your curtain stack doesn't block your view or access to sunlight.  Curtains stacks can be up to 1/3 of your window width depending on the fabric.
WE CAN HELP YOU REVIEW YOUR PLANS & DISCUSS YOUR WINDOW FURNISHING OPTIONS.   
  CONTACT US FOR A FREE CONSULTATATION WITH ONE OF OUR DESIGN TEAM TO DISCUSS YOUR PROJECT AT A TIME THAT SUITS YOU. 
 ( we are available for online & CONSTRUCTION SITE consultations DURING LOCKDOWN)