Why outdoor window blinds are a firm favourite for Melbourne homes
Outdoor blinds, also known as external blinds, can be both an attractive yet functional window treatment, whether you want your home to become more energy-efficient, more practical, or simply want to keep up with the latest home trends. With Melbourne's unpredictable weather and extremes in temperature, you'll be pleased to know that external blinds for windows are a suitable and durable choice for homes and commercial properties throughout Victoria.
Here are some of the main benefits of installing outdoor window blinds:
Making lifestyle changes to become more energy efficient in your home or workplace has several benefits. You can lower your utility bills and have a positive impact on the environment at the same time. Both indoor and outdoor blinds can help you save on power during winter and summer. In winter the sunlight filtering through the windows can help warm and brighten up your indoor spaces. You can adjust your blinds as the day goes by to help maintain a comfortable room temperature minimising the use of heaters or air conditioners. If your blinds are electric or automated, you can install sun and wind sensors which are programmed to adjust your blinds when needed or even close them completely at the end of the day—also a handy feature if you're away on holiday! Over time, the reduced use of lighting and heating appliances can help lower your monthly energy bill.
Protect yourself and your home from sun damage
As much as we may love sunlight flooding into our homes, we have to be mindful of its harmful UV rays. Not only are they a risk to your skin, but they can also cause damage and fading to your furniture and other household belongings—such as couches, curtains, artworks, wall paint and even the clothing in your walk-in wardrobes. External window blinds can add an extra layer of protection to reduce the risk of sunlight causing damage. Blinds that are automated by Somfy can easily be controlled remotely and you can even set a timer to adjust them automatically. Outdoor blinds give you full control over how much sunlight you allow inside your home so you can keep yourself, your family and your contents safer from sun damage.
Extremely versatile choices for your property
When choosing outdoor blinds for your windows, there isn't a one-size-fits-all approach. That's the beauty of external blinds—there are plenty of options in terms of colours and shades, textures and materials, and designs and patterns. Your blinds can be tailor-made to fit the dimensions of most of your windows, including large, hard to reach windows as well as smaller ones. With so many factors that can be tailored to your liking, you can easily achieve the desired look for your facade—anything from elegant and classic to modern and bold. Different window styles require different window treatments, whether your windows are sliding, double-hung, awning, casement or fixed, there's a solution that will allow you to benefit from the advantages that external blinds provide.
Fresh air without problematic outdoor elements
Does the possibility of letting in insects, wind, dust and other unwanted elements ever prevent you from opening your windows? While some external blinds can minimise this, fixed fly screens are your best option to prevent unwelcome visitors from entering your home. External blinds can however help you to control the airflow into and out of your home. Some blind styles and fabrics allow more airflow than others and we can help advise you on the best options if these issues are important to you—it all depends on what you want to achieve. Speak with our design consultants to discuss your windows and your priorities so we can offer you the best solution to suit your needs.
Enhance the look of your facade
If you want a modern, contemporary look and feel for your home or office, external blinds can help you achieve this. External blinds, especially external venetians can transform and enhance your property's aesthetic appeal. Outdoor blinds in Melbourne are a popular choice for home-owners and with good reason—they are functional, and they can be completely tailored to suit different architectural styles and designs. They can also add value to your home in terms of street appeal. When your property looks inviting from the outside, it sets the expectation that the inside will have a similar look and feel.
Increase your privacy indoors
One of the biggest differences between a house and a home is the quality of peace and solitude we can enjoy in our space. If you'd like a higher level of privacy in your home, consider having outdoor blinds installed on your windows. Using external venetians allows you the flexibility to be able to alter the angle of the blades to control how much of the outside world you want to let in. Other more traditional external blinds can provide complete or partial light block depending on the fabric you select. Remember, motorised external blinds can be programmed to automatically open and close even when you aren't at home—which adds a layer of security by making your home look like it's occupied while you're travelling, or even when you are just out for the day.
Simple to operate for your whole family
Outdoor blinds can be operated either manually or automatically. When it comes to heat control, privacy or air flow whether they are motorised or not will not impact their performance so long as you remember to put them up or down at the right times to provide the maximum benefit. Automation can allow the operation of your blinds to be aligned with the weather conditions whether you're there or not. Although both have more or less the same number of benefits, when it comes to ease of use, an automatic blind wins by far! Manual blinds are operated by physically opening and closing them, sometimes using a hand crank or pole which can be a difficult task for some people, or impossible when you're away on holidays. 
Using outdoor blinds instead of walls to enclose outdoor areas is a versatile way to help transform your outdoor living space. Outdoor kitchens and alfresco areas will be used by your family during more than the summer months with the addition of external wall blinds.
3 Popular types of external window blinds
There are many types of external blinds available and different types are better suited to different functions, whether it be to provide shading over your outdoor entertainment area using a folding arm awning, or setting up a retractable roof system over your pergola. There are quite a few options when it comes to outdoor blinds specifically for windows, so we've narrowed it down to the three most popular choices our clients make, all of which can be motorised and integrated with your smart home system. 
Sometimes called external window roller blinds, outdoor roller blinds provide shading to  your windows from the outside. They can be customised with different types of fabrics such as sunscreen or block-out, depending on your preferences. They help improve the energy efficiency of your property helping to keep your home cooler in the summer. External roller blinds work best over awning or sliding windows. With planning they can be integrated into the facade of your home if renovating or building.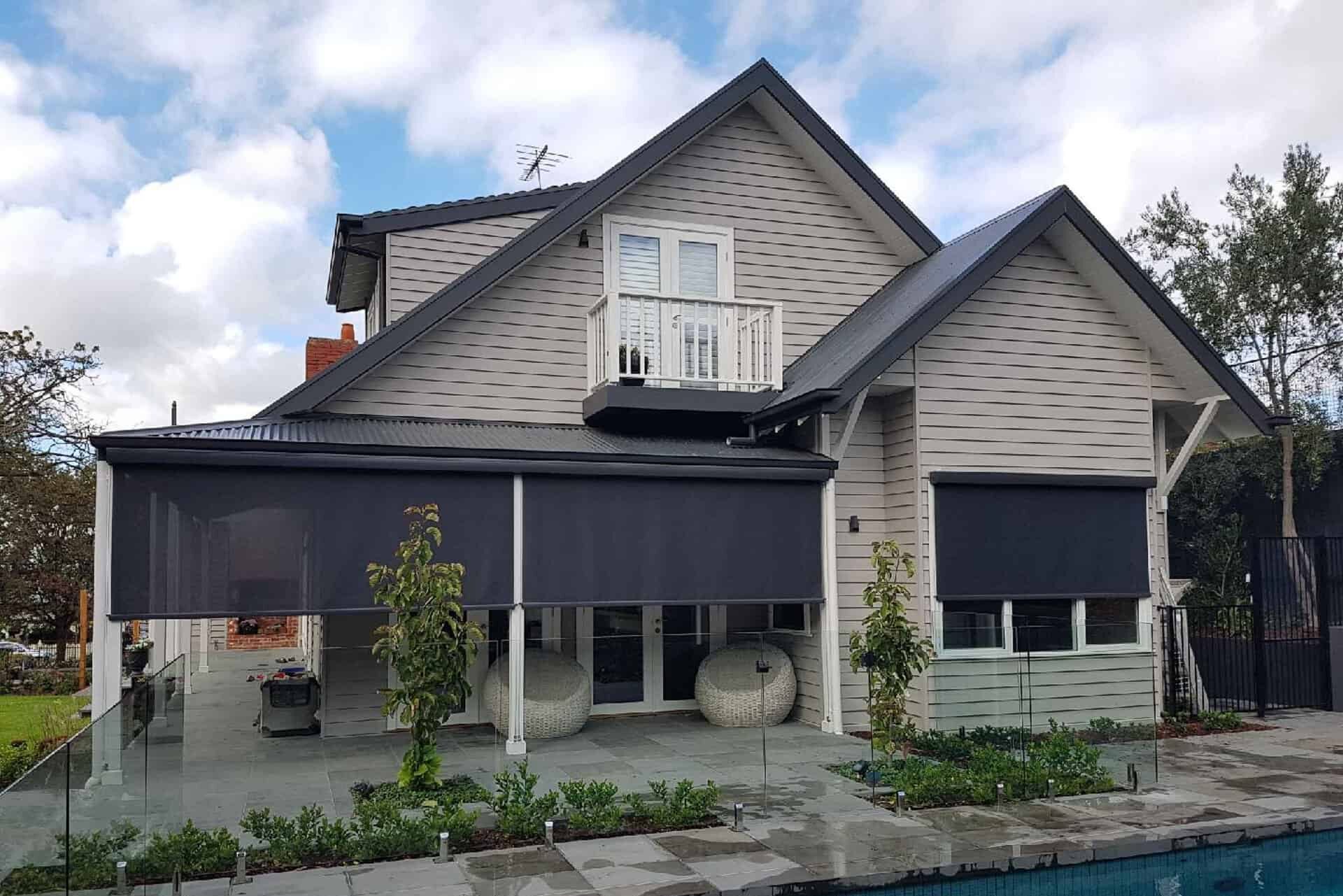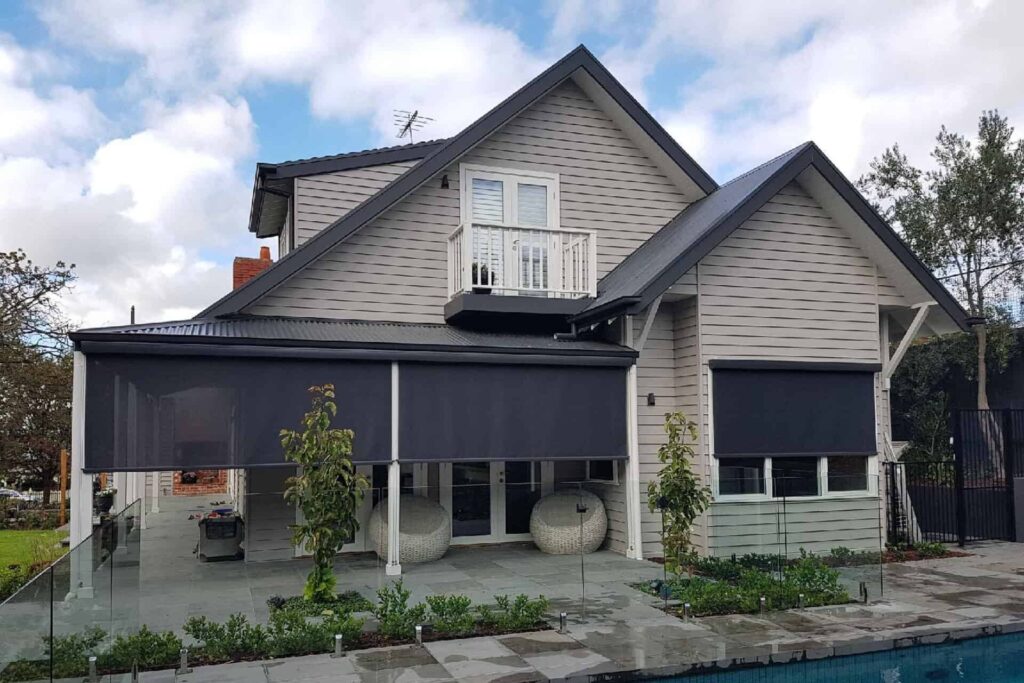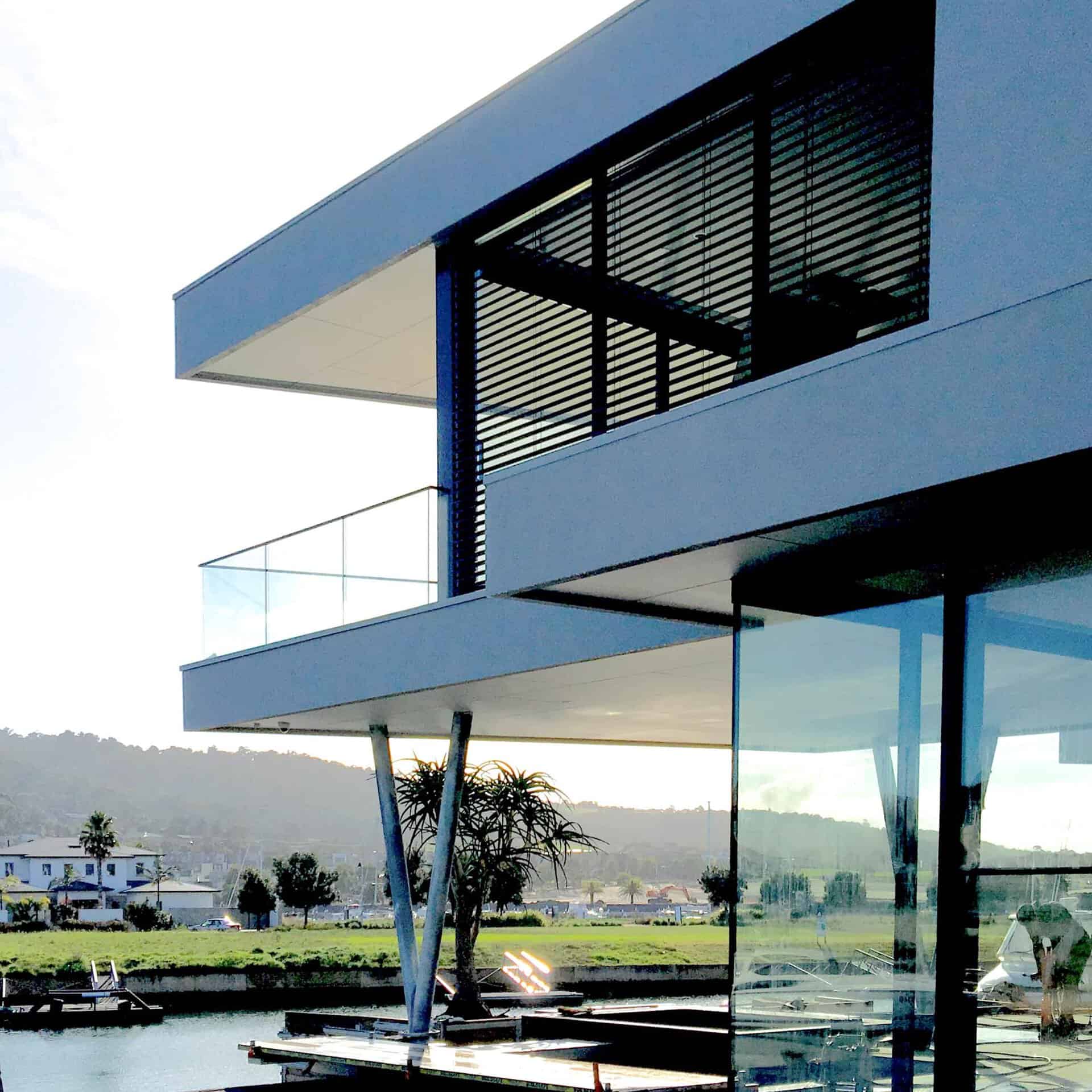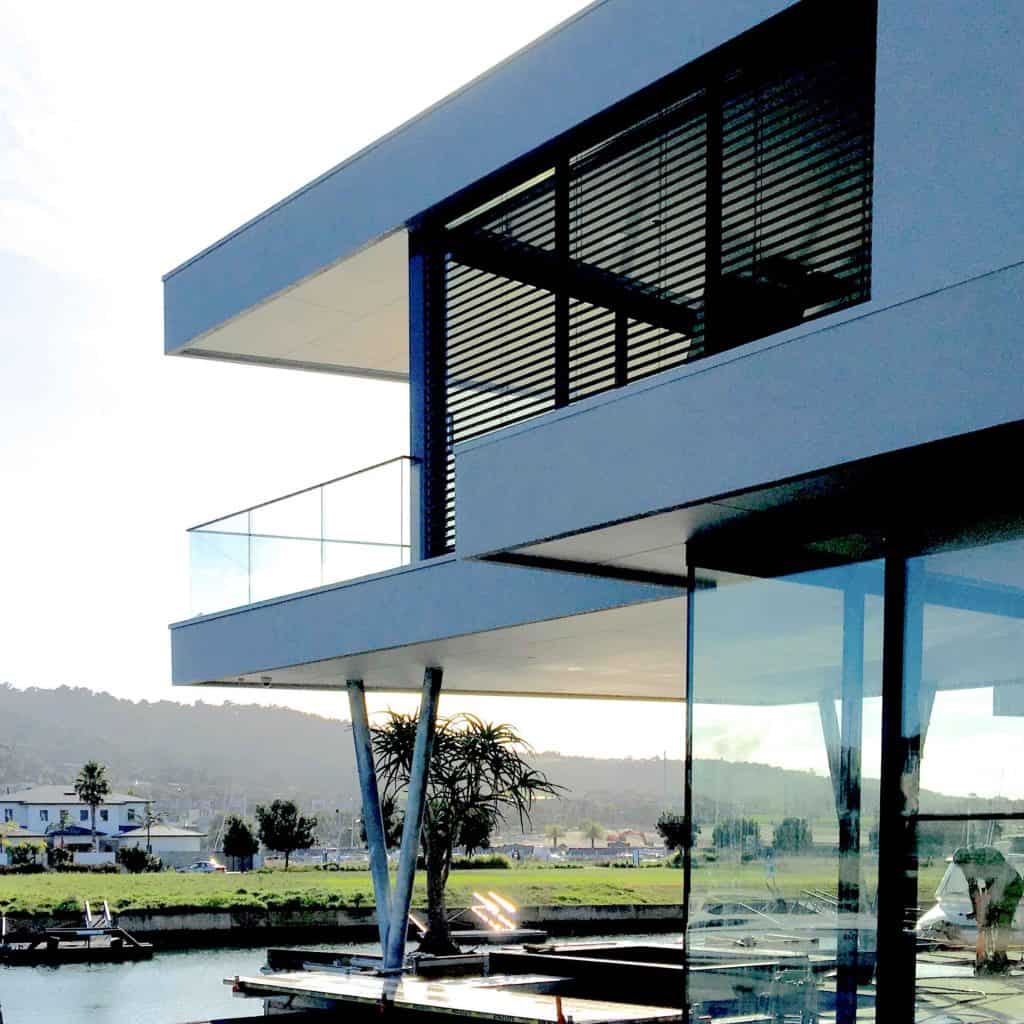 2. External Venetian blinds
Custom-made external Venetian Blinds are a modern, architectural outdoor window treatment, perfect for Melbourne conditions. They are known for their excellent light and climate control ability and are very versatile in terms of size and colour options. They can also help to reduce glare on TV and computer screens without blocking all of your natural light, which is a useful feature for your work-from-home office or TV room. As they are fully retractable, external Venetian blinds still give you the opportunity to let in as much of the warm sunlight as you'd like during the colder months and allow for easy access to windows for cleaning and window maintenance. There are different blade shapes available that can minimise any light bleed if total light block is a priority for your home in bedrooms for example.
Folding arm awnings, including those from markilux, are designed specifically to provide protection from the sun. This allows you to enjoy your outdoor living spaces in comfort knowing that you and your family are safely protected from the sun's harmful rays. All of the markilux awnings are designed with not just function in mind, but their design detailing makes them one of the best looking awnings available, whether open or closed. Are they an all season awning? Not really, however we have other options if rain protection is a priority for you. We also love and recommend the Australian made OZTech systems which do provide protection in all types of weather with wind ratings that make them an ideal choice for coastal areas. Talk to us about your site and we can recommend the best options to improve and increase your outdoor living.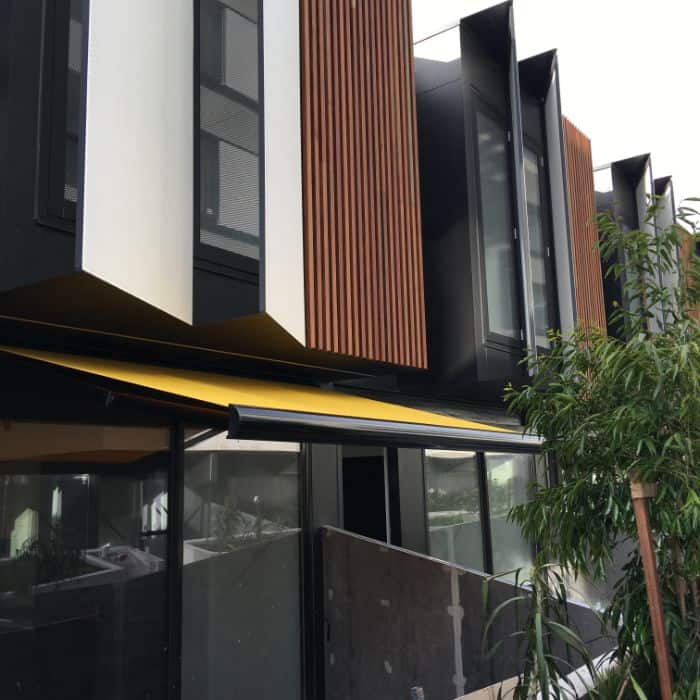 SOM Blinds is an expert in external window blinds
There are many considerations when it comes to outdoor blinds for your windows, and we understand that it can be a complicated, time consuming process with so many variables on offer. Even with a narrowed-down list, you will probably still have some questions and ideas that you'd like to explore further. We'd love to talk to you and help you find the right solution using external window blinds to suit the needs of your Melbourne property. Our suggestions and advice are tailor-made for you, based on our 20 years of industry experience and skill. Get in touch with us today to book an appointment in our showroom, or we're happy to come to you. When you visit our showroom in Burwood, you can see the different types of high-quality outdoor blinds we supply for yourself, along with the various material options. We can help you make the right decision for your home and help you select the external blind options that will work best for your lifestyle and home. We will draw up a complimentary design proposal and quote for you.