The Pros and Cons of Blinds and Curtains for Energy-Efficient Homes
Keeping your home at a comfortable temperature can be a challenge, especially with Melbourne's unpredictable climate. Heaters and air conditioners are getting more expensive to run with the ever-increasing costs of energy. Fortunately, window furnishings can play a role in keeping your home comfortable and lowering your overall energy usage and bills. 
When considering blinds vs curtains, energy efficiency is a benefit of both—but some types are more effective than others. We compare the pros and cons of curtains and blinds to help you choose the most suitable option for your Melbourne home.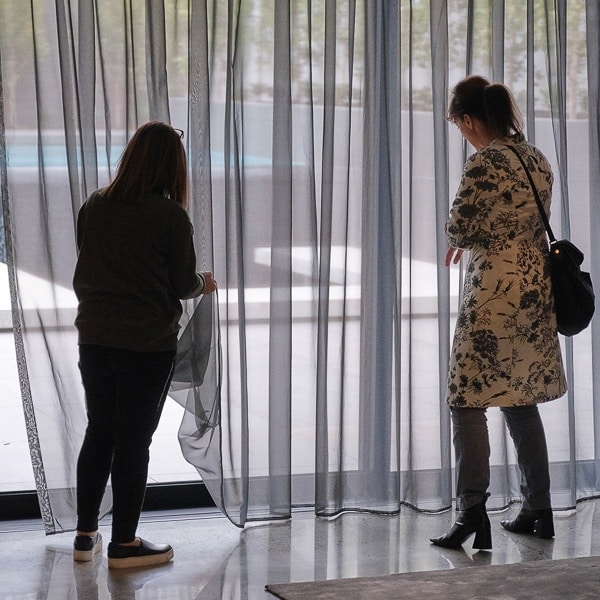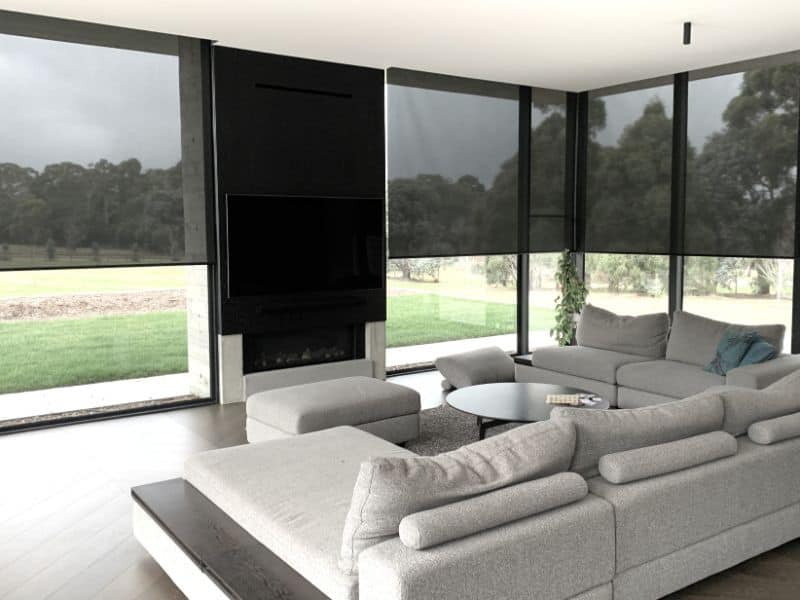 What is the purpose of window furnishings?
Window furnishings such as blinds and curtains can be used to effectively control light, increase privacy and improve the insulation of your home.
The pros and cons of blinds
The term 'blinds' refers to different types of window furnishings including roller blinds, honeycomb (cellular) blinds, Roman blinds, plantation shutters or Venetian blinds. Most can be motorised and automated to operate in response to time or temperature sensors. 
Whilst roller blinds have been among the most popular window furnishings for many years, we're seeing a growing trend where blinds and curtains are being used in combination. 
Why choose to install blinds?
Blinds make it easy to control light entering your home by simply opening or closing them. When using roller blinds, the type of fabric has an impact on light control and glare, with options including blockout, translucent or sunscreen.
When using Venetians or plantation shutters, you can manage the amount of light that enters by adjusting the angle of the blades at different times of the day or night.
Blinds act as a barrier between windows and the inside of your home, keeping hot air out in summer and warm air from escaping in winter. Automated blinds can be programmed to open and close using sensors, depending on the temperature. In this way the warmth from natural light—or passive heat—can be maximised during winter so you won't need to use the heaters as often.
Using external roller blinds on your north or west-facing windows is another way to improve energy efficiency. External blinds come in a range of elegant, practical and easy-to-operate styles. We have many sunscreen fabric options which reduce heat and glare while allowing you to enjoy the view.  
Operating blinds is easiest when they're motorised. Manual blinds require some effort to use–that's why motorised blinds are helpful for the elderly and those with limited mobility. Automated blinds will open and close at preset times, making them even easier to use.
One of the best things about blinds is their durability, as there is little that can go wrong with them. Motorised blinds are even more durable as the most common maintenance issue with manual blinds is a broken chain. 
Our SOM 60 motorised blinds are made using durable parts and manufactured to last. During their long lifespan there'll be little or no need to replace parts. We have motorised blinds that have operated perfectly for over 15 years. 
SOM Blinds can easily replace your roller blind fabric if you ever want to refresh your decor.
Keeping your blinds clean is an easy process—spot clean them with a damp cloth or vacuum with a soft brush attachment. An artist's rubber is also a handy way to remove any small marks on your blind fabric. Unlike curtains, blinds don't need to be washed or dry-cleaned.
Even though both curtains and blinds have a wide range of options, customised roller blinds are generally less expensive than customised curtains, Romans or plantation shutters.
What are the drawbacks of using blinds?
Blinds have only a few disadvantages. 
While light control is an advantage of roller blinds, it can also be a disadvantage if you want to achieve total darkness. Sometimes blinds mounted inside the window allow more light bleed if the window frames have a narrow profile. While light bleed around the edges of roller blinds can be minimised, other products or side channels need to be used in combination with the blinds to eliminate it completely. 
Mounting blinds on your architraves, or so they can overhang the window glazing can lessen light bleed. Back-rolling the fabric on roller blinds, or keeping the fabric closer to the wall or window are other options. Back-rolling specifically for darker fabrics works best when the blind is mounted behind or inside a pelmet to conceal the tube as the backing on most blind fabrics is white. This is because black backed fabrics have a tendency to suck into the window glazing on hot days.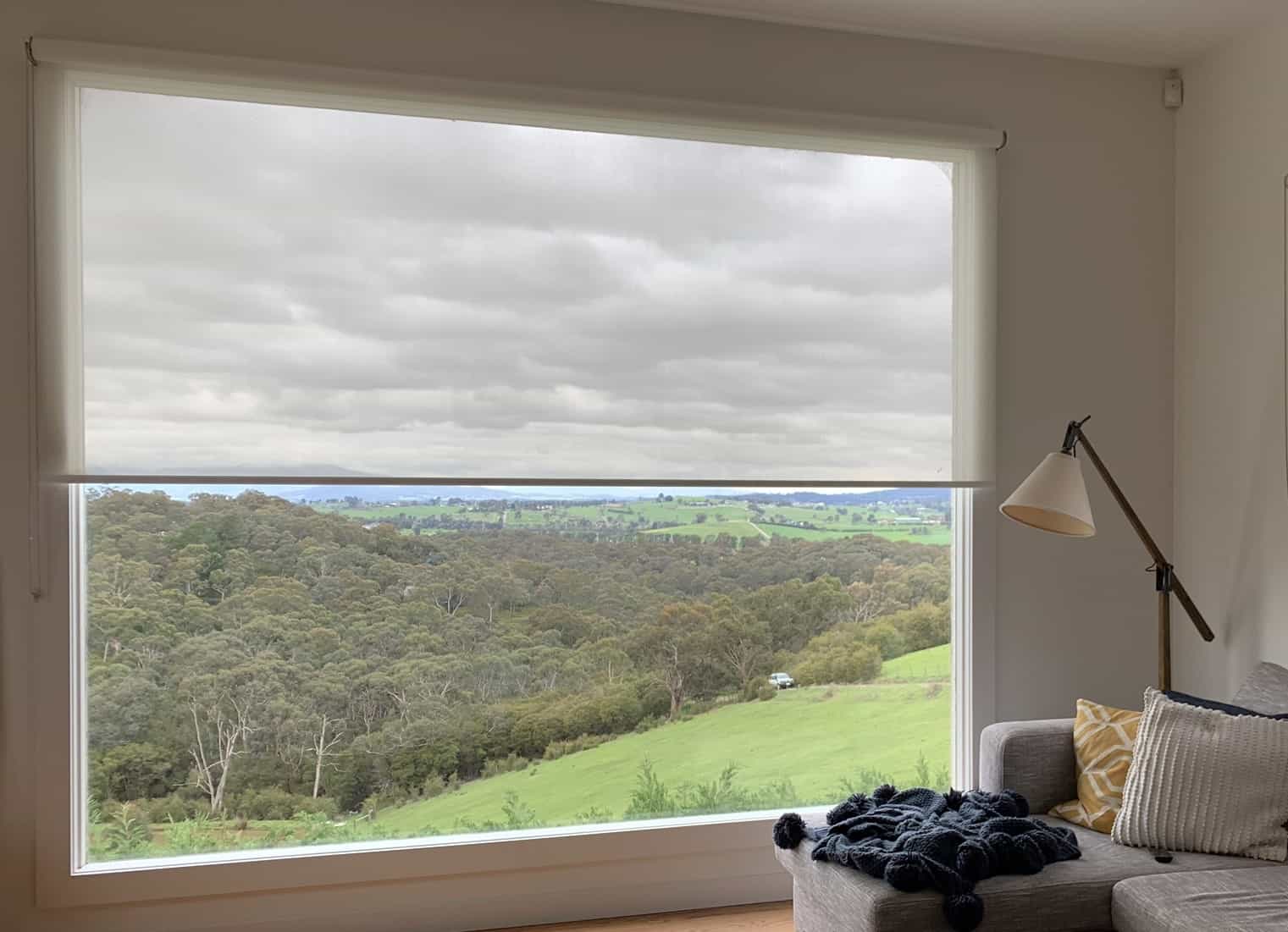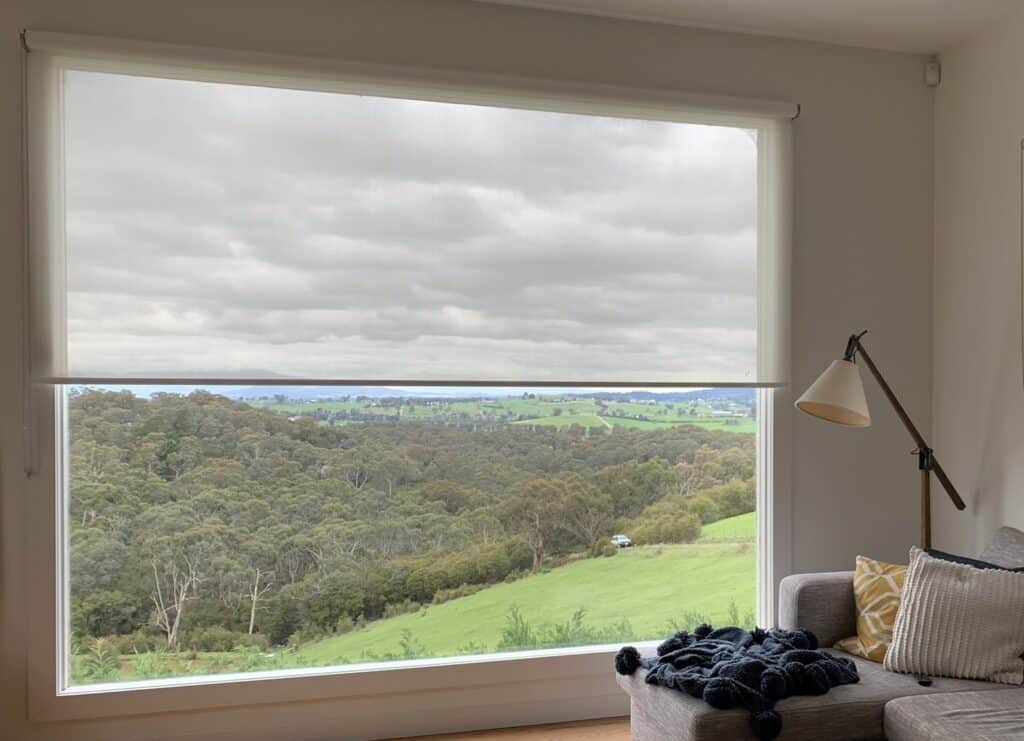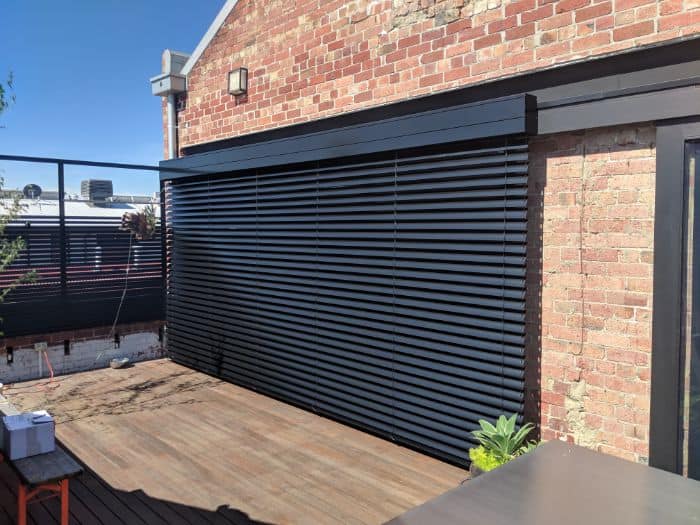 2. Not as decorative and neat
Blinds are more practical than decorative when compared to other soft window furnishings like curtains or Roman blinds. However, blinds can be concealed behind or inside recessed pelmets, covering the brackets and operating mechanisms to create a minimalist look.  
Manual blinds are operated using chains which must be fastened to the wall to comply with child safety standards. Roman blinds also have long cords that need to be wound around a wall cleat. Motorising manual and Roman blinds eliminates the need for chains and cords, and therefore the risks to children and pets
While there are many decorative blind fabrics and colours available, curtain fabrics are far more diverse with more patterns and textured options available.
3. Not suitable for every window shape and size
Roller blinds are not ideal for every style of window–they often don't suit very narrow windows which are also not suitable for motorisation, while bay windows result in significant light gaps.
Roller blinds are most suitable for square or rectangular windows. For circular windows, plantation shutters can be customised to fit perfectly. Triangular windows can be difficult to cover, especially in bedrooms where light block is important–here, honeycomb blinds or plantation shutters are your best option. 
Windows with frameless corner glazing will have significant light bleed as it is impossible to have both blinds mounted right into the corner. A good installer can use tricks to minimise this but it cannot be eliminated completely. 
The pros and cons of curtains
Curtains are panels of fabric that hang from rods or tracks mounted above the window. Curtains are an effective way to add drama or warmth to your room, and a simple way to control light.
Why choose curtains for your windows?
Curtains look elegant and they're practical window coverings for a number of reasons:
Curtains are so versatile that they can be as elaborate or as simple as you want. Choose from a variety of designs, colours, textures, prints and styles which can be fully customised to suit your personal preference. These days, we are seeing more elegant and decorative curtains and drapery returning to the market.  
There are fabric price points to suit everyone and sometimes the more expensive fabrics are not always the better choice for curtains. For example, the beautiful 100% linen curtains which we love, can expand and contract depending on the weather. This can cause considerable changes in the curtain length.
Curtains made with blockout fabric or blockout lining can help to stop light from entering. No window furnishing will guarantee complete darkness on its own, but curtains made from light block fabric which have pelmets come closest to achieving it.
Some rooms need more seclusion, such as the bedroom. A combination of sheer and lined curtains will give you the best results. Sheer curtains might reduce visibility, but they increase privacy and create a beautiful ambience. Alternatively, combine sheer curtains for daytime privacy with blockout roller blinds for night time privacy and light block.
Heavier fabrics offer better insulation. Lined drapes can prevent heat loss during cold weather and block warm air from entering when it's hot. This is ideal to increase energy efficiency, meaning less energy is needed for heating and cooling.
Soft window furnishings such as curtains or Roman blinds are excellent for absorbing sound. This works best in homes or spaces with lots of hard surfaces, such as concrete floors, and many windows.
What are the problems involved with having curtains?
Much like blinds, curtains come with only a few downsides.
1. Curtains take up lots of space
Even the thinnest and most sheer curtains create a 'stack' when drawn. Depending on the style of curtain heading—the part of the curtain that attaches to the track—curtain stacks can account for 20-30% of your window width. This can cause issues for smaller windows with limited wall space beside the window. Keep this in mind when comparing quotes, as there may be significantly more fabric required if you want your stacks to be clear of the window. 
If you're building or renovating and plan on having built-in cabinetry, you need to think about where your curtains will stack. Curtains can project up to 200 millimetres into your room depending on the fabric and heading type. 
If having a view is important to you and there is no wall space to stack your curtains, then Roman blinds or roller blinds may be the better option.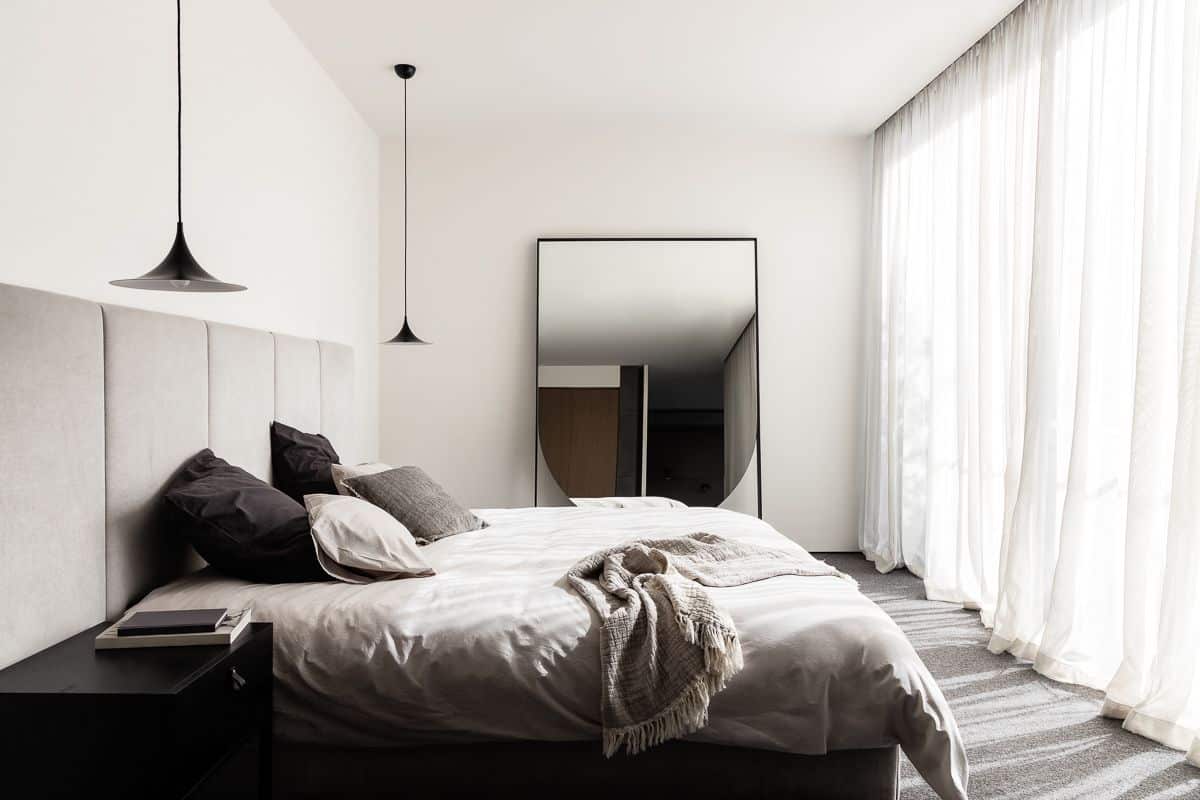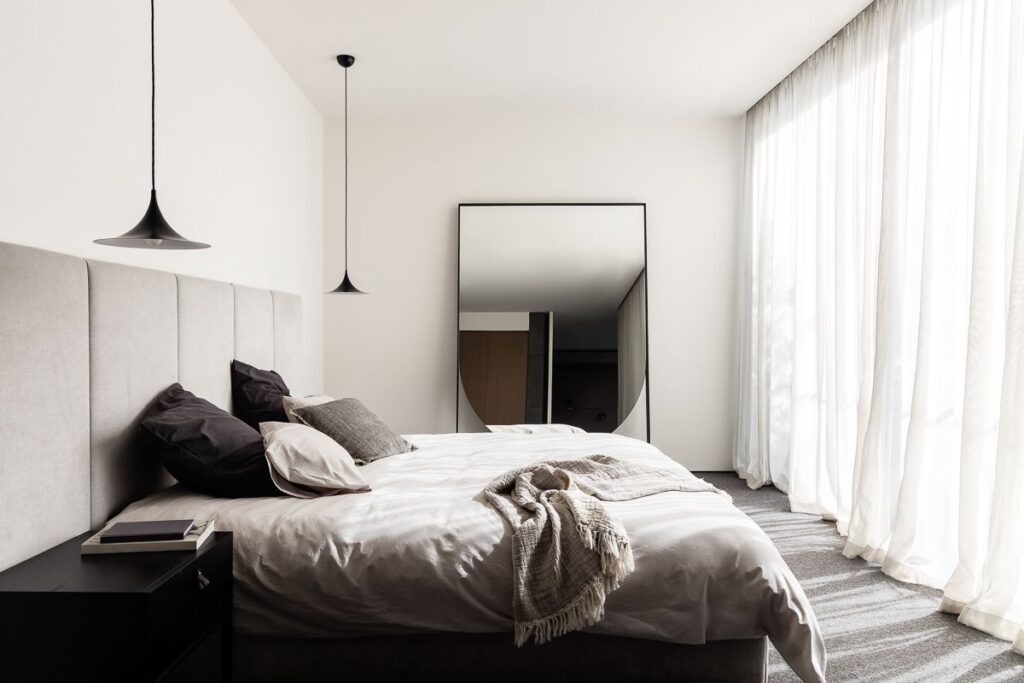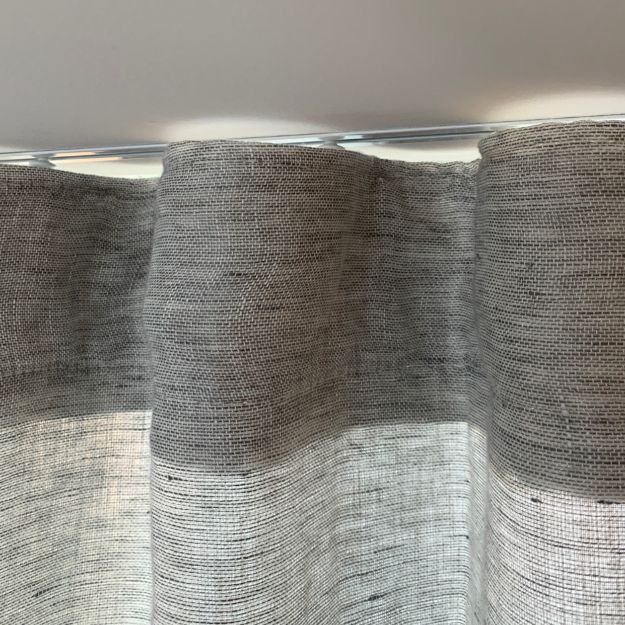 2. Costly when custom-made
Curtains can come at a higher price than most custom-made blinds, although the cost can vary greatly depending on your fabric choice.
3. They will need to be cleaned
Curtains need to be washed or dry-cleaned regularly. We recommend using professional and experienced curtain cleaners to avoid any costly disasters. All of our curtains come with care tags so you know exactly how the fabric should be cared for.
Effective window coverings for energy efficiency at home
As you can see from the pros and cons of curtains and blinds, each type of window treatment offers at least some energy-saving properties.
The types of blinds with the most energy efficiency are external blinds and motorised Roman or roller blinds,  and cellular honeycomb blinds.
When looking at the pros and cons of Roman blinds and roller blinds, bear in mind that the amount of energy efficiency they provide may depend on the type of fabric. Heavier or blockout fabrics limit the amount of natural light if drawn during the day, keeping your indoors cooler. 
Roller blinds can be fitted as a dual blind system–one with blockout fabric, the other with sun-filtering or translucent fabric to further regulate room temperature. The sunscreen or translucent blind allows light in and provides privacy at the same time.
Honeycomb blinds have a cellular structure that traps air, preventing heat from escaping in winter. They are becoming increasingly popular as homeowners discover just how effective they are.
We recommend motorising and automating blinds to increase the energy efficiency of your home and help save on utility bills. Automation makes operating your blinds easier as they can be controlled via a remote or mobile device to keep your indoors comfortable, even when you aren't at home.
Curtains made from a heavy fabric, installed with minimal gaps on either side and paired with a pelmet overhead provide the greatest energy efficiency for your home. Having said that, curtains are costlier, less durable and generally need more maintenance than blinds.
Energy-efficient homes with blinds from SOM Blinds
SOM Blinds has decades of experience in manufacturing and installing manual and motorised blinds and curtains in Melbourne. We provide window furnishings giving  consideration to both design and function.  
We service Melbourne's inner north, eastern and southeastern suburbs and surrounds, from Port Melbourne to Sandringham, including Brighton, Caulfield, Glen Iris, Malvern, Camberwell, Kew, Northcote and Glen Waverley. 
Visit our showroom to view our huge range of fabric and colours and enjoy our friendly, personalised service for window furnishings you'll love using for years to come. 
Call 03 9808 1807 today or make an appointment to visit us at our showroom in Burwood so we can chat about the best and most energy-efficient window coverings for your home.