What you need to know about electric roller blinds and automation
Choosing blinds that are simple to use at home is a smart decision. If you're looking for a solution to automate blinds, motor operated roller shades are among our favourite types of blinds—they look great and are easy to operate. Let's learn some more about automated roller blinds for your Melbourne home.
Roller blinds are made of fabric that is fitted onto a roller. The blind opens by rolling up to the top of the frame, and closes by rolling down. Roller blinds can be operated manually, or be motorised. Motorised blinds can also be automated.
What is a manually operated roller blind?
A manually operated roller blind is a single piece of fabric fitted onto a roller at the top of a window frame. It rolls up and down, is operated by a side-winding chain, and is available in a range of different textures, styles and colours of fabric. 
What are motorised and automated roller blinds?
Motorised roller blinds are powered by a motor placed inside the blind tube and they are generally controlled through a wall switch or remote control. These roller blinds can include battery-operated blinds, motor controlled blinds can also be hard-wired electric blinds—which is usually our preference. Automated roller blinds are motorised, and are programmed to operate automatically through a phone, tablet or smart home system.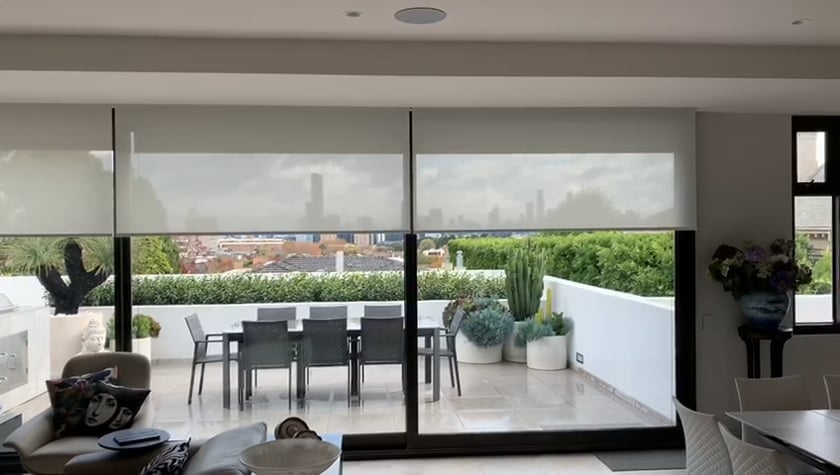 Why motorise your roller blinds?
The most obvious benefit is convenience—there is no manual work involved in opening and closing motorised roller blinds. One button can control multiple blinds in a room at the same time, making them physically easier to operate and saving you the time taken to adjust each blind every day. This feature is especially useful for people who may find it difficult to manually adjust their blinds due to disability or age. Once your roller blinds are motorised, they can be easily automated and integrated with your smart home system or mobile device. 
The advantages of automated roller blinds
Automation of your motorised roller blinds has plenty of advantages, including increasing the value of your home. Here are six further benefits:
If you're interested in energy-efficient home design or looking for ways to lower your monthly power usage, try automating your window blinds to help regulate room temperature and control the amount of light. 
Automated roller blinds can be programmed to close during the hottest times of the day, helping to keep the inside of your home cool and comfortable. In the same way, they can be automatically opened to let in sunlight and heat to help maintain a cosy temperature inside when it's cold outside. Your roller blinds can also be opened to let in natural light to brighten up your home.
Together, these can reduce the need for electric lighting, heating and cooling, which will lower your overall energy consumption. Using less power means better energy efficiency, and lower utility bills in the long term. 
Manual roller blinds have chains and cords which are choking hazards for children and pets. Motorised roller blinds don't need chains or cords, which makes them safer. Another safety benefit comes from programming them to work on a timer. By opening and closing at preset times, automatic blinds can make your home look like it's occupied while you're out, away on business or on holiday.
Having roller blinds on many windows or on high-reaching windows can be difficult and unsafe for the elderly or those with limited mobility. Depending on the fabric, some roller blinds can also be heavy, making them even more difficult to open and close daily. The decision to automate blinds means they don't need to be opened and closed by hand, making them much easier for anyone to operate.
Blinds can protect you from harmful UV rays and help protect the inside of your home from sun damage. Automatic roller blinds that are programmed to lower during the brightest times of the day help prevent fading and premature ageing of furniture, carpets, paintwork, art and even clothing in your walk-in wardrobes. 
As part of their general wear and tear, roller blinds can become damaged by incorrect or excessive use of their chains and cords, which makes them the part of blinds most often needing to be repaired or replaced. Motorised blinds work automatically without chains and cords, so replacements will not be required. Motors can be changed over if needed without having to replace your whole roller blind system. Motorised blinds will generally last longer than roller blinds over time. We have many clients with Somfy motors that still work perfectly over 15 years after installation.
Roller blinds with blockout fabric can prevent light from entering your bedroom at night. Programming them to close in the evening and gradually open in the morning to let in the sunlight can help you fall asleep and wake up more naturally. This can improve sleep quality and leave you feeling well-rested. 
What system is used for automated roller blinds?
Automated roller blinds are motorised roller blinds powered by an electric or battery-operated motor. At SOM Blinds, we use Somfy motors and remote controls with our own internally-developed SOM components. 
Somfy motors are known for their reliability, and also for their sustainability efforts in Australia and worldwide. Their motors come with a five-year warranty and some motors we have installed are still working after 18 years! Somfy motors can integrate with your smart home automation system, and battery-operated motors can be used when it's tricky to get power to the window.
DIY BLIND AUTOMATION: WHY WE DON'T RECOMMEND IT
When installing and automating roller blinds, there are four questions to carefully consider:
Not all motors work with all automation systems or even require the same wiring! It's a minefield that sometimes even the so-called 'experts' get wrong! We can't tell you how often we get desperate calls from poor home owners who have had their blinds installed but they're not working. The automation person says the blind installer should be activating them, and then the installer says 'not my job, call the electrician.' It's all about planning and working with a team who can help coordinate all the pieces to make sure you end up with a result that you will love for years to come.
The more blinds you have to install, the more time-consuming it becomes. If they are fitted incorrectly, the time needed to reinstall them can leave you frustrated and exhausted, and you may end up spending more money to get them fitted correctly the second (or third) time around. You may even end up needing to buy more blinds if you've measured incorrectly. Poorly fitted blinds often end up tracking to the side, damaging the fabric or creating bigger and uneven light gaps.
You will need specific equipment to be able to safely install blinds on high-reaching windows correctly. You will also need appropriate sized ladders and tools. You might not find anything to fasten your blinds or curtain tracks onto behind your plaster, or you might hit steel, timber or concrete. If so, you'll need appropriate drills and bits. It can be very unsafe to try to do all this without the help and eye of a trained expert due to dangers such as hitting electrical wiring behind the walls, or accidentally screwing into a box gutter!
Blinds for corner windows, arches, trapezoid windows and bay windows can be difficult to measure accurately and install without professional experience.
Unfortunately, there are several things that can go wrong with a DIY blind or curtain project. Even if you are able to install your own blinds, if they are hardwired you will still need to hire an electrician to ensure the correct wiring and configure the automation for your smart home system.
Our advice? Hire a pro. Our team includes technicians, and we have a network of fantastic electricians who we will happily recommend to provide you with a complete solution from start to finish.
High-quality blind automation solutions for your Melbourne home
If you'd like to get a quote for motorised blinds and roller blinds, Melbourne-based SOM Blinds can help. We specialise in sourcing and installing premium quality motorised blinds. Contact us on 03 9808 1807. We can come to you or you can visit us at our showroom in Burwood, where we can have a chat over coffee and discuss how to automate your existing blinds or design new ones that will be best suited to your home and lifestyle needs. Remember to call ahead so we can agree to a time when one of our design team members will be in the showroom, rather than out on site.