We help you decide if indoor or outdoor blinds are best for your home
 Blinds can help your house feel like a home. Internal blinds and external blinds can be used in different ways—maybe you'd like your home to feel warmer for longer during winter or you'd like to increase the level of privacy in your home during the day. The right type of blind can help do just that, and more. Let's take a closer look at the differences between indoor and outdoor blinds, and how they can work for you.
PROS AND CONS OF INTERNAL BLINDS
The advantages of internal window blinds include:
Blinds made from blockout, sunscreen or translucent fabrics help control the amount of light that enters your home, they can also help prevent glare on TV and computer screens. By adjusting the blinds during the day you can use natural light to brighten up your indoors.
A lot of heat escapes through your windows, which doesn't help during cold weather. Internal blinds can be made from fabric that gives extra insulation, helping to prevent heat from escaping. It's most effective when blinds are installed with pelmets that are the correct size for your windows. Blinds also provide insulation from summer heat, keeping your blinds down on hot summer days, especially on north and west facing windows, is an easy efficient way to help keep your home cooler.
Your blinds can help you use less energy at home. Blinds that insulate help keep your home warm, reducing the need to use supplementary heating. In the same way, controlling how much light to let in with internal blinds means you may not need to switch lights on as often. You tend to use less power, which improves your home's energy efficiency. Having your blinds or other internal window furnishings closed on hot days will also help to minimise the amount spent on mechanical air conditioning to keep your home comfortable.
Indoor blinds can be motorised and operated through a remote control, saving effort and time as you won't need to manually open and close them all individually. Automation lets you control your blinds even when you're not there, through preset operating times and other useful settings. Heat and sun sensors can also be used to automate your internal blinds to help minimise energy consumption even when you're not at home.
Our SOM 60 motorised blind system made and developed in-house here at SOM Blinds is built to last. The hardware is guaranteed for life. When redecorating, the blind fabric can be replaced and the existing hardware and motors can be reused. Reusing hardware and motors instead of getting new ones makes our internal blinds more sustainable and offers excellent value for money. Motors will eventually need replacing, but we have some motors still out there working after 18 years. Motor life can vary due to how often the blind is used and how heavy the blind is. We are finding hard-wired motors have a longer lifespan than battery operated motors.
Blinds made from UV-resistant fabrics help protect your flooring, furnishings, artworks and clothing from sun damage, premature ageing and fading. Internal window blinds such as skylight blinds are popular in homes with walk-in wardrobes that have skylights and large windows, as they can protect clothing fabric from fading in the sun. We'll never forget one of our lovely clients whose husband's suits all had one arm significantly faded from thinking they didn't need a blind in their walk-in robe because there were no privacy issues. A costly mistake longer term.
Here's how to fix the three main disadvantages of indoor blinds:
Light leakage or light bleed refers to the light that seeps from the sides of the blinds, and is one of the biggest disadvantages of indoor blinds. The good news is that this issue can be minimised or prevented when the blinds are properly measured and installed by experienced professionals. Please make sure you raise this whenever you are getting advice, especially if you are seeking complete light block from your blinds. There are pelmets and side channels we can use with some products that can achieve complete light block. This might be most relevant for shift workers needing to sleep through the day or families with young children requiring daytime sleep.
People who need complete darkness to fall asleep at night may struggle with indoor blinds alone. Light can be completely blocked out by adding pelmets with curtains or drapes alongside your indoor blinds to help block out the light bleed. We can help you choose the right product and fabric combinations for your indoor blinds and curtains or drapes. If complete blockout is important to you, make sure you discuss this with our designers before choosing your window furnishings.
Manual indoor blinds are operated using chains or cords, which are a potential choking hazard for young children and pets. Motorising your indoor blinds is an excellent solution because with motorised blinds there are no chains and cords to open and close. If you are considering battery motors for your window furnishings, we also recommend thinking about how easy it will be for you to reach the motors to recharge them. If they are hard to reach or you don't like ladders, we always recommend hard-wired motors which require no recharging.
Where to use internal blinds
Because they are so versatile, internal blinds can be used in any room throughout your home, including: 
Kitchens, bathrooms, laundry rooms and bedrooms
Home offices, studies and walk-in wardrobes
High-reaching and tall windows
Patio, glass and French doors
Internal blinds can be custom-made to fit perfectly.
What is an outdoor blind?
Outdoor blinds are fitted on the outside of the windows. They are also called external or exterior blinds and can be operated either manually, or automated with electric or battery-operated motors. Outdoor blinds come in many sizes, shapes, colours and different materials.
External Venetians and motorised external roller blinds are two types of outdoor shades that SOM Blinds specialise in. Retractable awnings such as folding arm awnings can also be referred to as external blinds.
PROS AND CONS OF EXTERNAL BLINDS
There are a lot of good reasons to use outdoor blinds, and a few of them are similar to the benefits of having indoor blinds. Listed below are six reasons why they work well for your home:
Outdoor blinds can be adjusted to control the amount of sunlight you let into your home. Tilt, raise or lower the blinds at different angles during the day to let the natural light brighten up the inside of your home. Exterior blinds can offer more privacy for balconies, patios and verandahs, while still allowing access to your view if you choose a sunscreen fabric. External blinds can be a good solution for windows where you want to have complete light block but don't have room or like the look required to achieve this using internal window furnishings.
Our window glazing is where we lose and gain most warmth in the home due to heat transfer into and out of our homes. Motorised external blinds offer you more temperature control than internal blinds during summer. The air gap between the building and the window blind helps to better insulate the inside of your home minimising the need to use an air conditioner or heater. In cold weather, your home can stay warmer and in hot weather, your home will remain cooler.
Similar to the advantages of internal blinds, external blinds can also play a role in an energy-efficient home design. The less you use a heater or air conditioning and electrical lighting, the less power you use. Over the long term, this will help you save on your utility bills too.
Motorised external blinds can be automated and work together with sensors to detect sun, wind and rain. This allows your blinds to be automatically retracted when the weather changes, even when you are not at home—ideal for areas like Melbourne where the weather can be unpredictable. When your external blinds are automated, you don't need to go outside to physically adjust them.
Having your outside areas double up for more than one use is another benefit of outdoor blinds. They can provide a comfortable and safe extension of your living areas, allowing you to spend more quality time outside while staying protected from harmful UV rays.
Much like internal blinds, external blinds also protect the inside of your home from sun damage. Your furniture, artwork, clothing in your walk-in wardrobe and flooring will last longer without fading and ageing prematurely.
Here are some disadvantages and how to prevent them:
Where to use outdoor blinds?
External blinds can be used in a variety of different places around the home, including:
All external windows in the home, especially those windows facing north or west.
Large glazed surfaces
Conservatories and sunrooms
Enclosed patios, verandahs, balconies and courtyards
When you work with a professional, your outdoor blinds can be tailored to fit perfectly.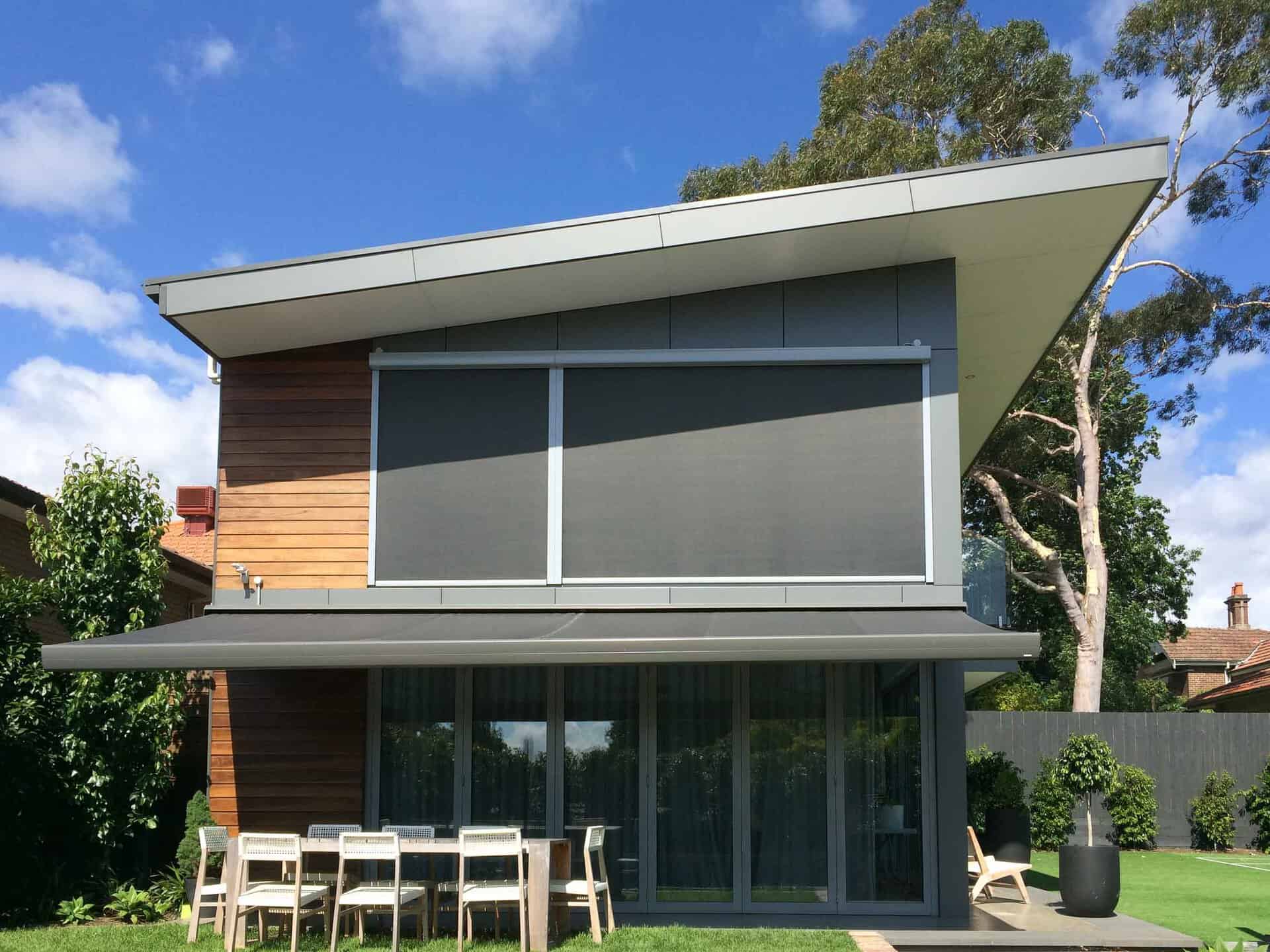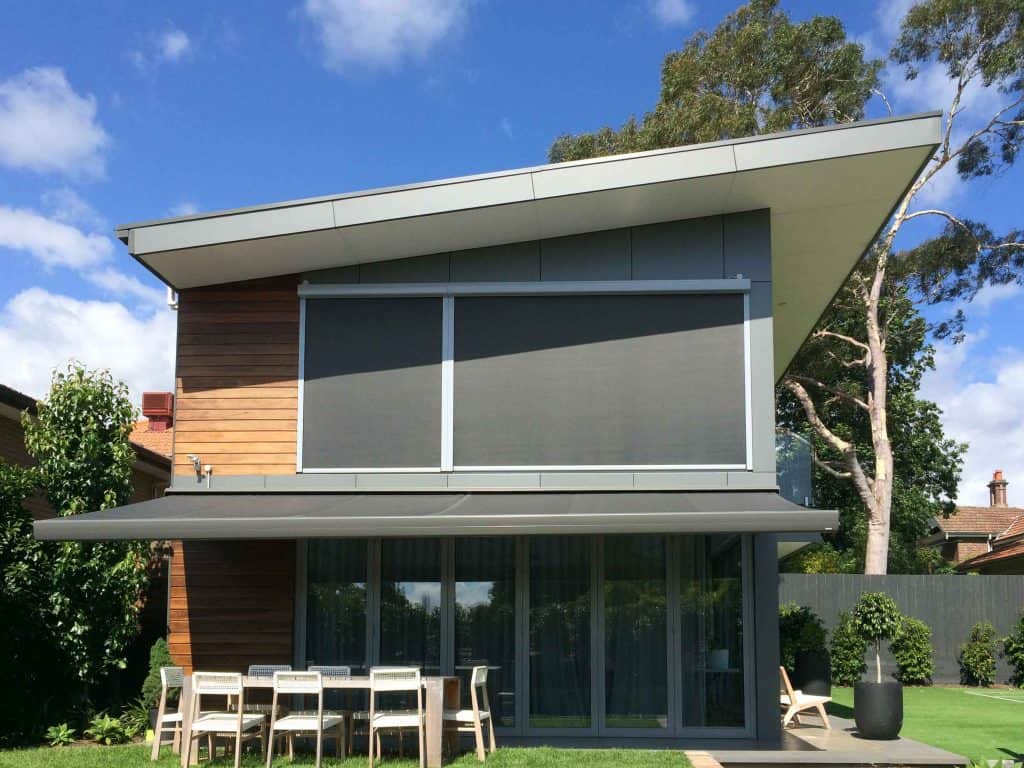 Outdoor vs indoor blinds: Which option is the best one?
Deciding between internal and external blinds really depends on your needs and preferences. To help you choose, think about what you are trying to achieve at home and where. It's often worth investing in a combination of indoor and outdoor blinds to cater to your home and lifestyle needs.
Consult with an expert in internal and external window treatments
If you're looking for an expert opinion, our team can help you. We have many years of experience in manufacturing, supplying and installing internal and external blinds in Melbourne, as well as motorising and automating them. Contact us today on 03 9808 1807 so we can discuss the best options for your home, or visit us at our showroom in Burwood. It is always best to call ahead to make sure we are available for a consultation.